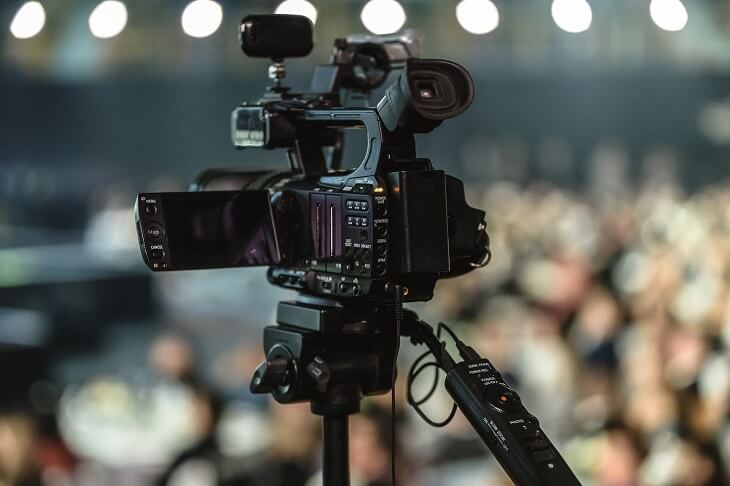 For quick access to videos of the best qualities you'll need to look for in your next agent, check out Buyer Agent Search Video Interview Series.  Today we're releasing videos of three top exclusive buyers agents and brokers in the National Buyers Agent Association.  They answer questions about their duties and responsibilities towards consumers.  Each one discusses some of the advantages they provide to home buyers by specializing in working only with the buyers for their home search.
Buyers want their buyer agent to be someone they can trust and truly depend on.
How do you actually weed out the best from amongst the rest?
One top exclusive buyer's agent from the National Buyers Agent Association has this to tell his future clients from out of town:
"Upfront, I always tell my out of town clients that the area they want to live in determines the type of house they get. So now with Zoom as our way to communicate virtually, we spend a lot of time doing Google Earth. Because I want to know where you work, which schools you want to send your kids to, or what shopping (mall) is important to you. I want to know what you do or what your hobbies are to understand what makes you happy. Taking those things in consideration will help dictate where you want to live. So if we can already determine the areas upfront, then it will help you focus more on the house when you get into town."
– David, Top Exclusive Buyer Agent in SC
Honestly, when I first read these words, I was very impressed with the deep level of service that this agent provides.  It takes real passion and dedication to convey such a personal message to people.  David expresses a deep understanding of his clients' needs.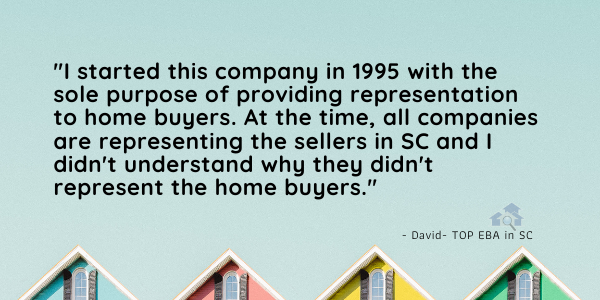 Ian, an exceptional exclusive buyers agent out of the Seattle Washington area, says that they provide, "No pressure, hands-on guidance to finding the right home for you".
Jon, another exceptional EBA servicing the Ann Arbor, MI area says discusses how a 3 bedroom 2 bath home can still be found in the midwest in the $200-$250,000 range.  In his interview, he reveals how he helped a home buyer save $37,000 on a recent purchase of a luxury home.  He says, "We work for YOU and help YOU be well-informed about the market and then achieve what YOU want to achieve".
What is an Exclusive Buyers Agent?
An Exclusive Buyer Agent / Exclusive Buyer Broker only represent buyers of real estate. EBA firms never take listings and therefore, never represent the seller in a real estate transaction.
This business model eliminates the conflict of interest that exists when one firm attempts to represent both buyers and sellers in the same transaction. An EBA or associated broker does not take or hold listings or represent the seller in any way.  The broker/owner and all agents in the office are full fiduciaries to their clients.  This is similar to how a lawyer is dedicated to getting the best outcome for his client.
In this strong seller's market, a buyer's agent must also be aware of "for sale by owner" properties. In many states, the broker, or agent must have a written agency agreement to represent the buyer exclusively.  Having such an agreement will ensure that the agent is not working with the seller or acting in a limited capacity.
When Did Exclusive Buyers Agent Start to Exist?
Historically speaking, buyers' agents didn't exist until the 19980s.  Some of the top buyers' agents in the SkyFor's network helped make that change happen, like Barry Miller of the B&L Consumers Real Estate Radio Show.  Barry, dubbed "the father of buyer agency" helped form the National Association of Exclusive Buyers Agents decades ago.  He is currently a full-fiduciary agent for both buyers and sellers.  Barry hosts the weekly consumers' real estate show and often has Kathleen Chiras as a guest.  Archives of these shows and audio-only versions of broker interviews can be heard in the podcast section of this site.
Alta,  an Exclusive Buyer Agent from Colorado has a video in the series that also exemplifies the profile of an exceptional agent.  Since very few towns in the US still have exclusive buyer agent offices, it is comforting to know that there are other ways to get proper representation.  We recommend that you put into writing what the agent will do for you as a buyers agent.
According to a recent survey conducted by the National Association of Realtors (NAR):
89% of buyers recently purchased their home through a real estate agent or broker, and 5% purchased directly from a builder or builder's agent.
52% of survey respondents said that having an agent to help them find the right home was what they wanted most.
Best Practices with Covid-19
Between June and September 2020, the National Buyers Agent Association showed a 70% increase in the buyer agent demand compared to the same months in 2019. The pandemic shows that consumers need a realtor to help them make a successful purchase now more than ever, even with advanced technological internet tools. Most REALTORS have accepted the challenge and have made tremendous adjustments as to how they conduct business now that there are strict guidelines to follow. One of the select top exclusive buyer brokers shared:
The clients and agents have to travel separately. Gloves and masks are compulsory and hand sanitizers are provided in each house. All transactions involving escrow, title, and document signings are now electronic. We do everything possible to minimize contact and maintain social distancing in order to protect our clients.
Feel free to browse more of our blogs within the site to know how you can maximize your home buying power regardless of the pandemic.
So…What Can A Top Buyers Agent Offer?
Not all realtors are created equal. You'll realize how true that statement is even more as you go through the series of videos. You will also learn the educational backgrounds of the agents, the amenities and town they serve, and how they guide buyers in their next real estate transaction. Each video features a top buyer agent in a specific town/area who shared their input. Listen and hear their answers to 5 critical questions from the links below:
In one of the videos, a buyer broker shares what happened in one of his recent experiences with a client: "I recently helped one of my clients get a re-inspection. It was for a renovated home. I did my research as I always do about permits. And I realized that the owner/builder had not pulled a single permit for the job. And so they went to the city and asked that the house be re-inspected". 
The buyer agent did the right call to request another inspection which helped provide peace of mind for his clients. And more importantly, kept them from possible physical or financial harm if left unchecked. Permits will reveal if a property is safely built according to the regulations by someone who knows what they're doing. So don't ever forget to include it in your checklist and mention it to your agent at the onset.
The National Buyers Agent Association
Kathleen Chiras, owner/ CEO of SkyFor Inc. also owns and manages the Buyer Agent Search service. She is also the association manager for the National Buyers Agent Association, and various state associations. Kathleen understands the sentiments of the buyers as she was once in their shoes.  Her personal motivation to seek a career in helping homebuyers is in the initial video of the series. Her advocacy started after she purchased her first home where the agent revealed her price point to the seller. From then on she's motivated to help buyers have someone in their corner. Thus, the national association provides free consultations and recommendations of agents. The service provides 2-3 buyer agent profiles. 
 Agents have been vetted by being interviewed, and by filling out a long profile detailing their services.  The association is constantly reviewing its members and holding them accountable for high standards of practice.  Those who contact the association headquarters are provided a set of interview questions. The questions can be used to do another pre-screen and make a final choice.
As of September 2020, the association has a network of nearly 1200 top-rate fiduciary realtors. Among them are Exclusive Buyers Agents all over the US, Costa Rica, and Canada. So yes, a network of very real people who made it their lifelong mission to be advocates for buyers do exist.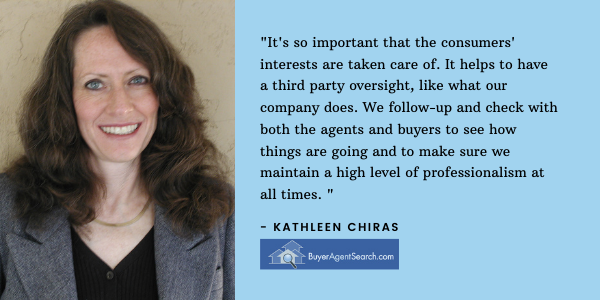 On Building Its Reputation As A Trusted and Reliable Source
The National Buyers Agent Association has been in business for over 20 years. The service makes the selection process easier for consumers who want to purchase a home. They provide free consultations and recommendations of the top buyer agents in any town in the United States. The agents undergo regular evaluations to make sure they continue to provide a great quality of service. An agent who fails to meet or sustain the strict standards will be removed from the national association network.
How Can You Get Connected with An Exclusive Buyers Agent?
Engaging a buyers agent will help consumers avoid making the wrong real estate investment.
– Kathleen Chiras
Consumers can easily find the right agent by filling out the online form and a list of top agents for a specific area is then sent via email. Homebuyers (or even sellers) may also call 800-383-7188, Mondays through Sundays. They can talk with any of the staff or Kathleen Chiras herself.
Take advantage of the free consultation for top agents in the United States, Costa Rica, and Canada. The service is constantly adding new home-buying videos, so check out our YouTube channel today! See you there!
Check out the A+ rating the service has with the Better Business Bureau here: https://www.bbb.org/us/co/evergreen/profile/association-management/skyfor-inc-1296-90275771/customer-reviews