You may first wish to browse our list of some of our top buyers agents in each state. Then call us with the office number that interests you or provide the details of your search here and get immediate access to full profiles.
Next, Get the most important 10 questions to ask and the 10-star buyers agent assessment form below–download or print.
(Go to this link to find the Seller Agent Assessment form with both Questions and Answers, and here to get some suggestions for top seller agents).
These essential tools will empower you to get the very best buyer or seller agent for your unique situation.  What you end up with: A stress-free buying or selling experience where you will financially benefit the most.
Must-Ask Interview Questions To Help You Choose A Buyer Agent:
How long have you been licensed?
Do you work in real estate full time?
What percentage of your business is working with buyers?
Do you have references from other buyers who have used your services?
What if I see a for-sale-by-owner house on my own?
How often will you supply me with properties that meet my criteria? How will you get them to me?
Do you have an association membership that has a published code of ethics or standards of practice?
Can you help me throughout the loan process?
Please tell me how you represent buyers to help them get the best price and terms?
Are you able to explain what current market trends are, and what to expect in an offer situation?
Bonus Question: How often do you work solely as a Buyer Agent?
Must-Have Answers To Interview Questions To Help You Choose A Buyer Agent: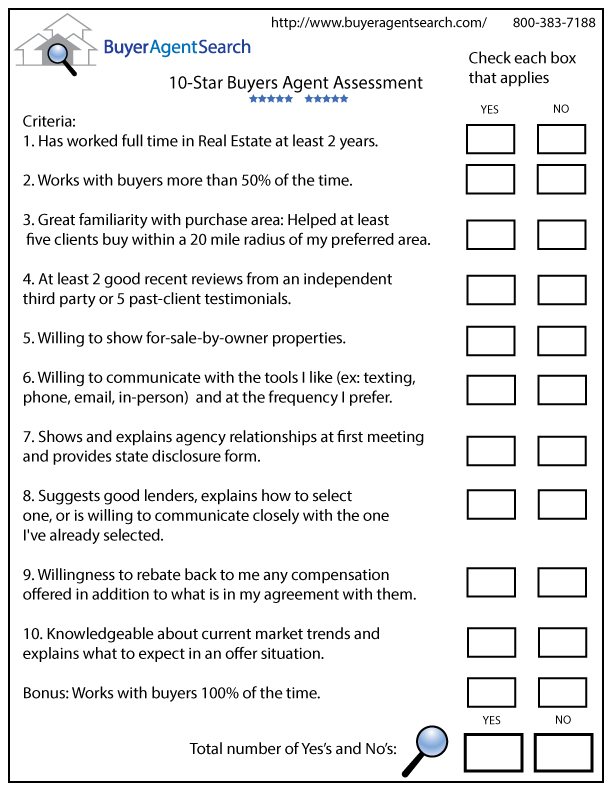 Find out how real estate agents can change their spots (their relationship with you) in ways that could harm you here.