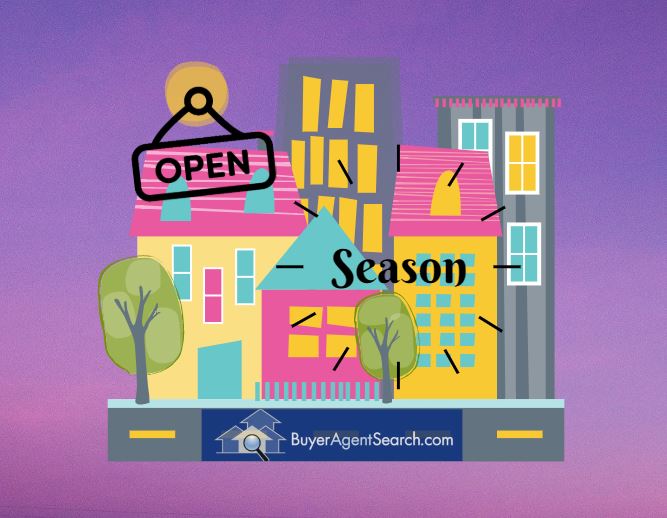 Covid-19, also known as the Coronavirus, has taken so much of the world's attention, spreading fear and creating paranoia. People are taken aback and are forced to stay at home to reduce exposure and flatten the rising curve of confirmed cases. Most European and Asian countries affected have announced lockdowns, quarantines, or State of Emergency situations. And as of this writing, 37 US states have ordered public schools to be closed. No doubt with the ongoing pandemic, the world economy is crashing and it brings forth uncertainties. As Covid-19 brings the world to its knees, we start to question how we can go forward with our daily lives and our personal plans for the future such as buying our own house. Colorado's top buyer agent provider shares some buying tips while consumers are confined at home due to Covid-19.
Kathleen Chiras, owner/CEO of Buyer Agent Search is a regular guest speaker at The Barry and Larry Show. On March 07, 2020, she gave her expert opinion about how consumers can take advantage of their properties' potential now that Colorado's home-buying season is officially open. She is currently talking with brokers all across the country who are in her network to ask what they are doing to help their clients–video tours? Virtual closings? It's all being done this week. Also, buyers are looking more closely at the potential of their homes to produce income during this economic downturn.
Choose the Right Property For You
"I want a multi-family property that's good for two families where I can live and have the other part for rent. I plan to stay for at least 2 years and make it into a full rental home in the long run."  – Tyler C. BAS Client looking in Palmer, MA.
I personally talked to Tyler. He is very confident about his plans of buying a multi-family home and knew exactly what needs to be done to make it happen. He is just in his mid-twenties and already on a great path ensuring his future.
Residential real estate consumers, especially buyers, need to revisit how they make decisions in choosing the best house or property to invest in. Recently, we're seeing an increasing trend with the type of properties that buyers are looking for. More and more consumers nowadays are out looking for properties that will provide them both comfort and a steady source of income. 
Buyer Agent Search focuses more on residential real estate and the most common category is single-family homes. Residential real estate properties have the potential of becoming rental properties. Included in the list of residential real estates are condominiums, co-ops, townhouses, duplexes, triple-deckers, quadplexes, high-value homes, multi-generational and vacation homes. From time to time, Buyer Agent Search gets investors as clients, and more often than not, they look for these types of properties to turn them into rentals. It's noticeable, as Barry, a co-host on the Denver Consumer's real estate radio show–also observed, that regular homeowners and buyers are tapping into the idea of converting or finding a property where they can live and rent out at the same time. As the cost of living continues to go up, more and more people find the concept as the most practical way to survive.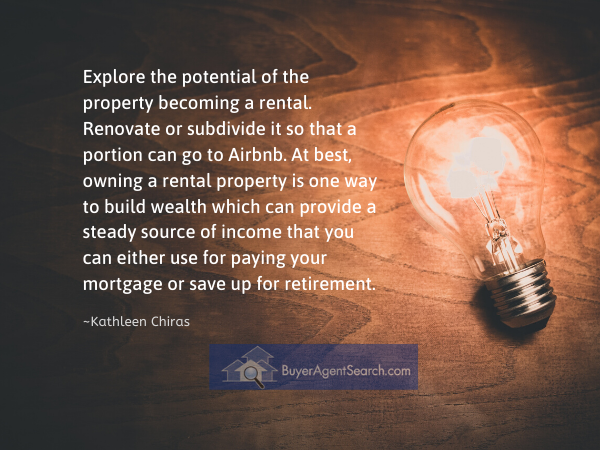 How Can Your Home Generate An Income?
Zoning refers to municipal or local laws or regulations that dictate how real property can and cannot be used in certain geographic areas. Zoning laws can limit commercial or industrial use of land in order to prevent oil, manufacturing or other types of businesses from building in residential neighborhoods. These laws can be modified or suspended if the construction of the property will serve to help the community advance economically.– Investopedia
During her guesting, Kathleen suggested for sellers consider highlighting their property's rental potential as a marketing strategy. Now that's a light bulb moment! If you are a buyer, take the opportunity to watch out for those properties that might go on the market. Here are a few important things to consider:
Check out the property. Make sure it allows for business provision in accordance with the Zoning laws. Zoning laws are actually loosening up across the country, as more and more people are renting out spaces in their homes. Zoning differs from one place to another which you can get from the local zoning office, city hall, or some other local planning board, and simply ask for a copy of your local ordinance. 
Invest in renovating the property. Consider making necessary modifications or find creative inexpensive ways to alter space. According to Kathleen, adding locked doors inside the house helps create private spaces for all tenants.
Explore the type of rental that's most applicable to the property and its location. Some might be good to be:

An apartment rental or boarding house
Registered for AirBnB
As a studio office rental for small businesses.
The way I see it, real estate is a good form of investment one way or another. And renting your extra space might just be the best thing to do especially when an unforeseeable situation happens. A rental is something you have direct control over. You might be staying home but you'll still have an income to depend on.
How Can You Continue With Your Home Buying Process While At Home?
Lockdowns and quarantines have understandably put consumers' plans on hold for safety measures against Covid-19. But thanks to technological advances, some important things can still be done at home. Whether you're already in the middle or just starting the home buying process. Here's a list of things that can help you manage or continue your plans even when you can't go outside:
Maintain your internet connection at home. When you're forced to stay home, the internet will be your connection to the outside world. As long as you have the electricity, proper tools/ resources, and current internet subscription going, you should have access to information and everything you might need to work on your plans.
Continue to research and self-educate. We all turn to Google for almost everything these days and it could be overwhelming. To avoid that, hire your agent first to have a professional guide on what to look for online. They work on commission, so there is no upfront cost.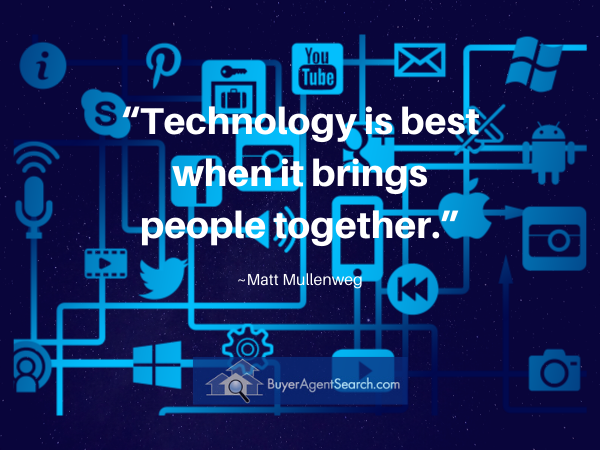 Make use of your gadgets and take advantage of available platforms that you can use to communicate. Free downloadable applications are available for both Android and IOS users. Video conferencing might be a good idea to do meetings and virtual tours in place of the actual visit to the location while on lockdown/quarantine:

Video chat with free apps like Skype or Zoom
Email exchange
Phone calls and SMS

Continue to build, maintain and improve your creditworthiness. As previously discussed, any home buyer's ability to own a house depends on their credit standing. Your credit history must show how well you can manage your finances responsibly and pay your bills on time.
Keep yourself healthy at all times. No plan is executable if you are too sick to make things happen. Check out CDC's prevention guidelines to avoid getting infected by coronavirus or any infectious disease. Religious or not, you may also want to whisper a little prayer for the world to heal.
Where Can You Find Trust Worthy Agents?
You don't need to leave the house to find the best agents. Buyer Agent Search by Skyfor is best known for recommending top-rate fiduciary agents to consumers along with free consultations. Take advantage of this free service anywhere in the United States, Canada, and Costa Rica. Simply communicate your needs by filling out the online form and the team will contact you back in no time. Get access to top buyer agents whose expertise can protect your best interests in the process of home buying. Or you can call 800-383-7188, Mondays through Sundays, and talk with any of the staff or Kathleen Chiras herself. Also, don't forget to check out the many home-buying videos that are available on their YouTube channel. See you there!