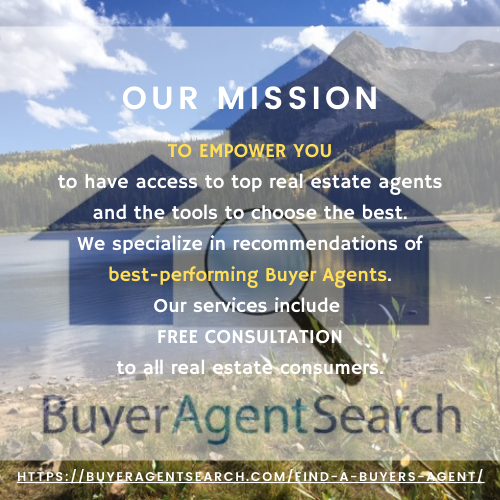 There are two things a consumer often feels when he or she is about to buy or sell a home – confidence, and hesitation. Confidence, because the consumer has researched the product/service, checked reviews, and is prepared financially. Hesitation, because even though the person has researched and has the money, it is a huge investment. It seldom happens that consumers feel both at the same time, and more often than not, they fall on the latter, a bit of hesitation. And this scenario is very common among real estate buyers. So what's the best thing to do when you have unshakable doubts and worries? Keep going. Learn from the Colorado-based buyers agent who has made videos of top agents, and who can show you how to find a buyer agent with a track record of being a strong and well-reviewed advocate for consumers.
Kathleen Chiras understands a buyer's emotions. She worked as a sympathetic social worker early in her career and has a Masters in Social Work. She understands the anxiety many people feel about letting go of hard-earned savings, and the regret of making mistakes.  It is natural to feel scared or worried when buying something of big value. In fact, Kathleen's personal buying experience drove her to put together a firm back in the 1990s to keep consumers like herself from falling victim to situations that could have been avoided. And it has been over two decades since then.
Over 20 Years of Home Buyer Protection
Today, most homebuyers will want to have some kind of guarantee and protection from people who may want to take advantage of their lack of knowledge and experience. This is exactly where Kathleen's company steps in – bridging that gap and providing the needed guidance and counseling that she didn't have twenty years ago. Hence, she founded and built what is now known as Buyer Agent Search.
Given the fact that buying a house is one of the biggest investments an individual will ever make in a lifetime, she centered the company's mission in protecting the best interests of buyers. Through her firm, she has helped thousands of consumers all over the United States and Costa Rica.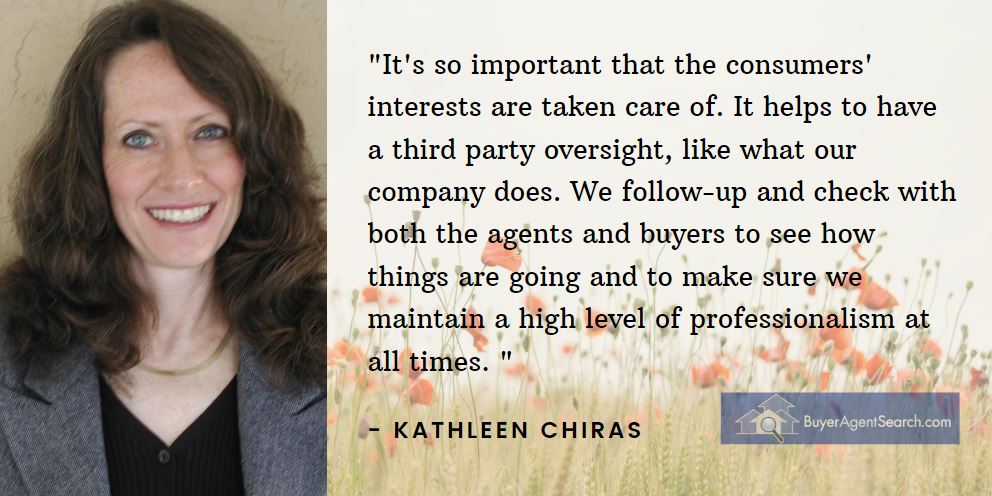 Listen in as Kathleen talks about selecting and hiring Top Real Estate Agents here:
"Engaging a buyers agent will help consumers avoid making the wrong real estate investment"

– Kathleen Chiras
3 Key Things that Buyer Agent Search by SkyFor (BAS) Offers:
Twice the Protection. Planning to hire a buyer's agent is a great step. What's better than that is having a third party oversight like Buyer Agent Search. The brokers and agents within the BAS network are pre-vetted. They continue to undergo regular reviews to ensure consumers only get to see and choose from the best lineup. Therefore, if you need a guaranteed top-tier selection of fiduciary agents, you know you can contact BAS anytime you decide to pick your agent.
Customer Support. BAS makes a match with at least 2 agent selections. It ensures that buyers and agents get immediate assistance when needed. It proactively determines areas of concern through information gathered from both parties. Regular communication, even after transactions have been successful, helps maintain a high level of professionalism on both sides. You are assured that a realtor who no longer represents the values that BAS was created for will eventually get "weeded out".
FREE Consultation Service Anytime. As the saying goes, the best things in life are free. Anyone who's been offered a free service will normally doubt the intention. The service does make a small referral fee at closing if you buy with one of their recommendations. But while the service requires no fee to get access to the best Realtors®, it requires your time to make things happen. The company is open to receive your calls and messages at your most convenient time and preferred mode of initial communication–text, call, or email. Kathleen personally calls inquiries and has a lifetime of real estate experience to answer most questions.
In addition, BAS Team makes sure that consumers have access to the following:
A network of highly recommended buyer agents all over the US, Canada, and Costa Rica. BAS provides consumers with the flexibility to change the areas of interest if needed. Because BAS understands that changes happen based on budget and needs. You will always be provided with the best buyer agents in the new area of interest. (Note that Costa Rica is included because Kathleen currently owns two farms near Dominical and has experience in building a custom seaside home).
A Set of suggested interview questions. BAS provides Realtors® who are equipped with both knowledge and experience, but consumers are still encouraged to do a second screening. That way, you are able to gauge who among the top-tier agents you feel most comfortable with. Being able to build that rapport and connection is almost always the key to a successful home search and negotiations.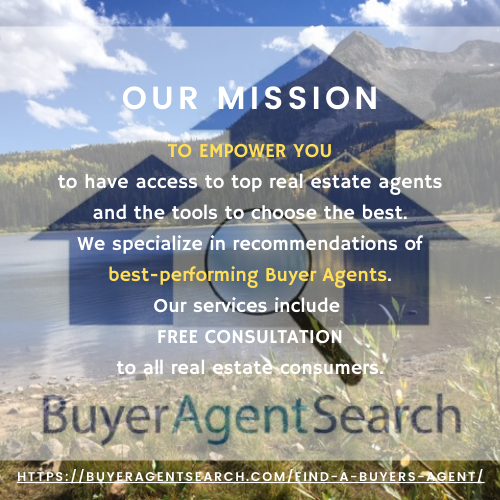 Hiring the best buyer agent is tricky especially if anyone you know, a friend or a relative, is among those you are considering. While the idea is generally acceptable, there are a few things to remember when doing so:
Shop for the best. This may not always be the agent in your neighborhood or the recommendation of a friend. Get out there, take your time and interview agents. Find out who best fits your preferences and provides your needs in order to get your dream house. Like Forbes, BAS believes that the best representation comes from someone who has combined knowledge and experience about finances and market trends. And someone whom you can trust and easily connect with.
Set aside personal emotions. There's no denying that personal relationships sometimes make wonders, but it could also post potential risks like not being able to choose from the pool of top-flight real estate agents. This is because, at the back of your head, you may feel you should be choosing your friend or relative. While consideration of a friend or a relative is ok, focus on your goals and see how they match up against two or three other highly qualified agents that you have interviewed. When Kathleen first became an agent in the '90s, her own best friend chose to work with someone else to eliminate any chance of damaging the relationship. And today that friendship is still going strong.
Imagine your new home. Stick to your goals and stay focused. Although buying your own house is a personal matter, the transaction itself needs careful handling. Making objective decisions will prove to be difficult during this journey. Not only do you need to prepare financially, but also be ready mentally/psychologically. Keeping your goal in sight and accepting the reality of the current market might help.
Want To Get A Buyer Agent To Advocate for You?
Do not hesitate to equip yourself with the ability and the tools to choose only the best by visiting our page with interview questions and answers for buyers and sellers. The service has a carefully-maintained a list of best agents throughout the US, Canada, and Costa Rica. Kathleen and her team are available 7 days a week to attend to your inquiries. Simply fill out the online form or call 800-383-7188 at your most convenient time.