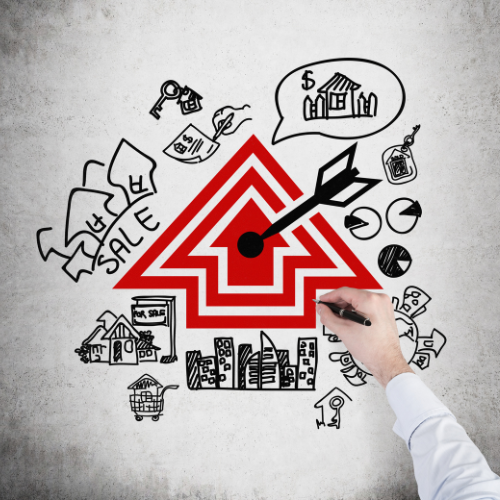 National Buyers Agents Association  Survey reveals Surprising Homebuyer Concerns
Buying your first home is a big decision and can be overwhelming, but with proper planning and preparation, it can be a smooth and enjoyable process. Let's see what top real estate agents' advice and tips are and what they have to say in today's current real estate market.
Some of the highlighted questions pertaining to this are:
Top agents' best advice to first-time home buyers, how agents help buyers in finding the best property at the best price, the biggest concerns of buyers who are considering buying a home in 2023, and the number one tool these agents use to help buyers know what to offer in a declining market.
It is understandable that the home-buying process can be intimidating to most buyers, especially first-time home buyers. As a result, it has been noticed from the survey that the best advice buyer agents provide every home buyer is to get pre-approved. Before you start looking at homes, it's important to determine how much you can afford to spend. You should factor in your monthly income, expenses, and any debt you may have. You'll also need to consider the down payment, closing costs, and other fees associated with buying a home. Once you have a clear understanding of your budget, you'll be able to focus your search on homes that are within your price range.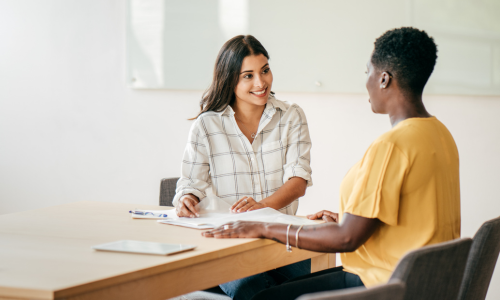 Below are the results from the national survey conducted on top buyer agents
1. What is your best advice for first-time home buyers?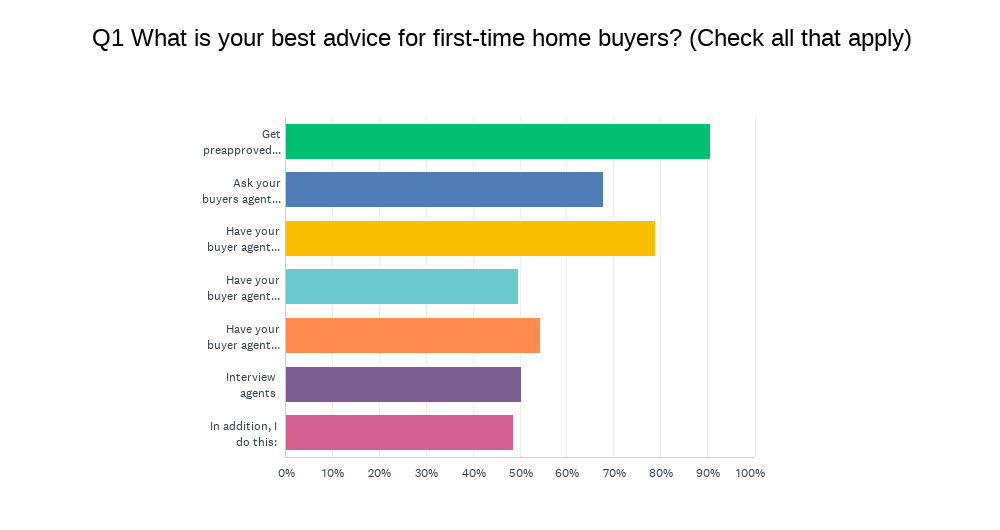 a. Get pre-approved with a recommended lender (or show your agent proof of funds) = 90.53%
b. Ask your buyers agent to set you up on an auto-mailer to receive target properties emailed to you daily = 67.46%
c. Have your buyer agent offer you a list of the first steps in the home buying process = 79.29%
d. Have your buyer agent offer you info about how buyer's agents get paid = 49.70%
e. Have your buyer agent offer a list of first-time homebuyer programs = 53.85%
f. Interview agents = 50.30% – 85
g. In addition, I do this = 48.52% – 82
A top-rated association member, Nikki, in Honolulu, Hawaii responded to the survey with this advice:
Real Estate agents need to provide information about new developments in the area that offer special pricing for housing. (Gap housing is for) for buyers who earn too much to qualify for affordable housing, but who don't earn enough for the high median prices in our location
Another top buyers agent, James, in Brattleboro, VT quoted:
Remind buyers that they need to remember who everyone works for. Remember that a buyers agent works for them and no question or property no matter how small they might think it is should be brought to their agent asap. No question too silly. I am there to show them whatever house they are interested in seeing, even if it is a long way away and priced low. That is what I am here for
2. How do you help your buyers find the best property at the best price?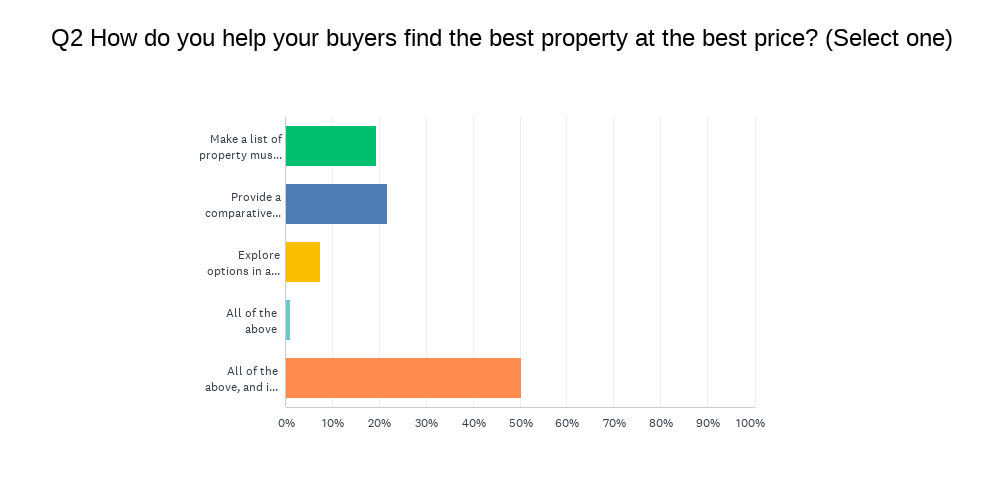 a. Make a list of property must-haves = 19.08%
b. Provide a comparative property analysis before making an offer = 21.97%
c. Explore options in at least one MLS as well as for-sale-by-owner = 7.51%
d. All of the above = 1.16%
d. All of the above, and in addition I do this: = 50.29% Some additional suggestions include: _______________________________
Here is a tip from Michael, a top buyers agent in Spokane, WA:
Make sure I, or someone that works for me, is available to show them property on a moment's notice. Keeping personally up on the inventory and what properties are selling for with how many offers is important also
Dana, a top-rated buyers agent in Bettendorf, IA added:
If my clients find a property they are excited about writing an offer on, I try to have left that property for at least an hour, and hopefully overnight too make sure they have a second look
3. What is the biggest concern of your buyers who are considering a purchase in 2023?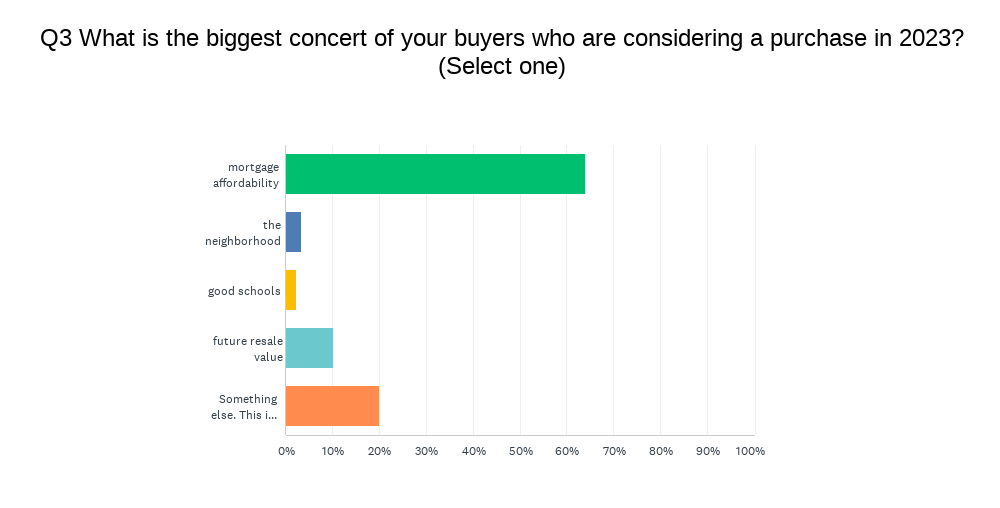 a. mortgage affordability = 64.16%
b. the neighborhood = 3.47%
c. good schools = 2.31%
d. future resale value = 9.83%
e. Something else. This is their biggest concern: = 20.23%
It has also been summarized that one of the biggest concerns of buyers who are considering to a buy a property in 2023 is their mortgage affordability. Mortgage affordability is a critical factor that buyers should consider when purchasing a home as it refers to a home buyer's ability to comfortably make mortgage payments without causing financial stress or hardship. Reports are still showing unusually high-interest rates and a lack of inventory in most states in the United States and this still causes bidding wars which for most agents are also one of the biggest concerns of home buyers nowadays.
However, first-time homebuyers can overcome these challenges by working with an experienced real estate agent, researching neighborhoods and homes thoroughly, and obtaining pre-approval for a mortgage before starting the home search. By being patient, flexible, and informed, first-time homebuyers can find a home that meets their needs and fits within their budget.
4. What is the number one tool you use to help buyers know what to offer in a declining market?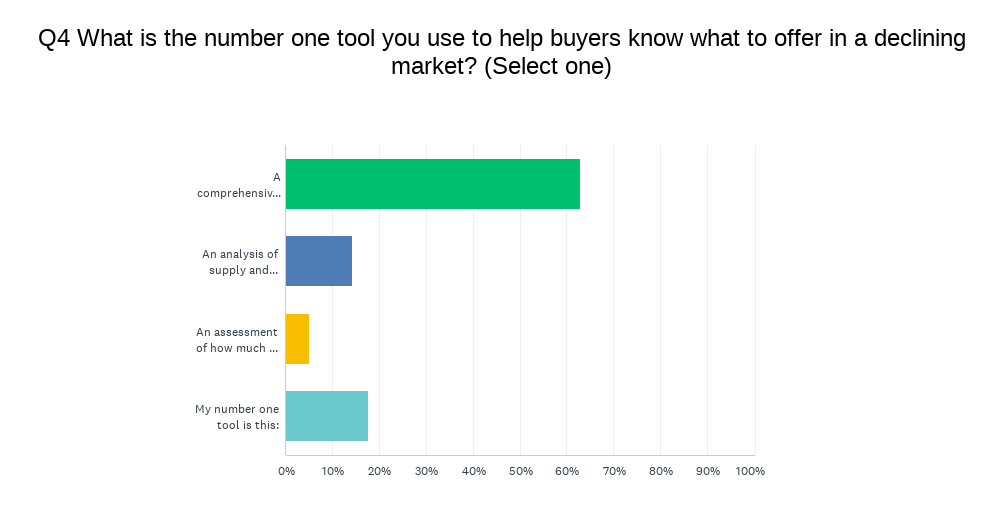 a. A comprehensive comparative market analysis = 63.01%
b. An analysis of supply and demand = 14.45%
c. An assessment of how much the buyer wants the property = 5.20%
d. My number one tool is this: = 17.34%
Here is a word from Eileen, a top buyers agent in Thornton, CO
A comprehensive market analysis as well as what the history is showing in the declining market. What is the average sales price decrease in the area month over month for the past year if applicable
Jan, a top-rated buyers agent in Chevy Chae, MD also quoted
My market is not declining. Prices are holding steady, still low inventory, and competition among buyers. Work with a Realtor skilled in negotiating and who has good relationships in their market to be able to network and find opportunities for you

Connect with top buyer agents for stress-free house searching!
Buying your first home can be an exciting and rewarding experience. By following tips and guides from experts and working with experienced professionals, you can navigate the process with confidence and find the home of your dreams. A buyers agent can be a valuable resource for first-time home buyers. They can help you navigate the complex real estate market, provide insight into neighborhoods, and assist with the negotiation process. Make sure to choose an agent who is experienced and knowledgeable in the local market.
The National Buyers Agents Association is fully committed to providing the best assistance and support every step of the way to every home buyer. They have a large network of experienced real estate agents who are experts in the local market and can provide valuable insight into neighborhoods and other factors that are important to home buyers. Top buyer agents in the networks have a variety of resources to help first-time home buyers prepare for the buying process. The association's primary goal is to connect buyers to the best buyer agents to ensure a smooth and successful home-buying experience.