A lot of people wonder what a buyer's agent does for the commission they receive at closing.  Are they really helpful? Do they sit around all day waiting for a phone call? Do they really do anything special for their homebuyers clients?
Picking the right agent to work with whom you know is working hard to represent you really depends on whether you are buying.  A buyer's agent needs to be able to find and negotiate properties that meet their client's preference.
Let's take a closer look at what real estate agents do for buyers to understand why it is worth hiring the right agent.
For BUYERS: The best buyer's agents are able to offer agent-level, fiduciary services. 
Real estate is regulated by each state. Therefore, it makes sense to look up (your state) and Real Estate commission.   Exclusive buyer agent offices are always fiduciaries because the entire company is dedicated to only the buying side.
Teams with 100% buyers agents (within a company with listings) also have certain guidelines they must follow in order to help ensure loyalty to their clients.  Some companies choose to have only transaction brokers in their offices — those who facilitate the transaction but are not in a fiduciary loyalty capacity to either side.
1. Helps you get pre-approved for a mortgage.
An outstanding real estate agent will have a huge network of inspectors,  lenders, and other professionals in the real estate industry that they can connect you with. Buyers need to understand there is a huge difference between being pre-approved vs. pre-qualified.
What is the difference between pre-approval and pre-qualification? — Pre-qualifying is just the first step. It gives you an idea of how large a loan you'll likely qualify for. Pre-approval is the second step, a conditional commitment to actually grant you the mortgage.
2.  A Buyer's Agent will help you find the right home for your needs.   
An outstanding buyers agent can assist you to save time and energy by asking you targeted questions to help you define precisely what you want.  They need to keep listening as that can change over time! They can help you focus on the right place, neighborhood, home type, and more.
It will still take time and energy to look for the right property, but the actual showing of a home is only one of the tasks of a real estate agent. Here's a 1-minute video on the 5 most critical decisions to make as you start off your journey.
3. Negotiate an offer. 
When you've already found a home that you want, one that you really like, it is time to make an offer. Making an offer too low isn't smart because it will surely be ignored and possibly be completely ignored by the seller.
On the other hand, you don't want to offer too much, though, because no one wants to spend more than they have to.  Both sides of the negotiation will have expert Comparative Market Analyses done for their clients, so they have a good idea of the market value.
4. Help you select a home inspector. 
Your agent will know the best home inspectors in your area and can connect you with them. You need to have the home inspected before you purchase it to avoid a money pit.
5. Attend a home inspection. 
Excellent agents who are truly interested in representing their clients to the fullest will often attend the home inspection to make sure everything goes well.  They will be there to help you understand the results of the inspection and the next steps in the negotiation process.
6. Negotiate any home inspection repair requests. 
Issues that you find through the home inspection may be ones that you need your agent to discuss with the seller's agent. Your real estate agent can tell you which problems need to be brought up for negotiations and can handle the negotiation process for you.
7. Communicate with the seller's agent and your attorney throughout the process. 
Your real estate agent will keep up the lines of communication between all the parties to keep the transaction moving along. Excellent communication skills are one of the hallmark traits of an exceptional agent, especially a buyer's agent.
8. Monitor your loan commitment. 
An excellent real estate agent knows how easy it is for a buyer to miss deadlines on loan approval. No one wants this to happen, especially your buyer's agent, so they are going to keep track of your mortgage along with you.
9. Submit offers.
When you find a home you love, your buyer's agent will help you submit an offer.  Members of the National Buyers Agent Association are skilled negotiators that have developed expertise on how to get you the best price and value possible.
10. Finalize all loose ends for the closing. 
Part of the final steps for getting to the closing will be doing a final walkthrough to ensure the condition of the home is the same as when you wrote the offer. If something does cause trouble, your agent will be there to advise you on how to move forward.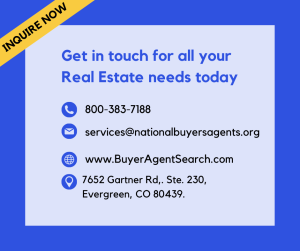 You now have a better understanding of some of the services a  real estate agent provides! If you need the help of a buyer's agent, our services are free and you can contact us anytime.
The National Buyers Agent Association has a network of top-rate fiduciary buyers agents and brokers. They also have a great network of top-rated listing agents.  A top agent will mostly have well-established connections to other business professionals who can help make your move less stressful. Such as movers, landscapers, renovation experts, and used furniture dealers.
Simply communicate your needs by filling out the online form where you can get immediate results for fast access to top buyer agents, or call 800-383-7188, Mondays through Sundays.
Check out the A+ rating the service has with the Better Business Bureau here: https://www.bbb.org/us/co/evergreen/profile/association-management/skyfor-inc-1296-90275771