If you're looking to get ready for a Florida home purchase a few months down the road, this plan will help ensure you've covered all your bases. From finance to logistics, it's important to think through the changes on the horizon to streamline your 2023 Florida home purchase.
You'll want to save up money for your upcoming move but the budget can vary widely depending on the services you require. While you may be able to manage a do-it-yourself move for only the cost of a rental truck, a professional move can cost thousands of dollars. This price can be further increased depending on the distance of the move as well as services like packing and unpacking.
While you may have been ready to buy a home this year, the uncertainties caused by the US economy  and high interest rates may have put a damper on your plans. At this point, you may be uncertain about your real estate goals and unsure whether the opportunity to work from home will inspire you to move to another market or another type of home.  The videos and blogs provided here on Florida will help you make those decisions.
Preparing to finance your purchase
One of the first things you'll want to think about is the financing for your home purchase. Talk to a real estate professional and ask for an introduction to a mortgage lender, if you don't already have one in mind.  The National Buyers Agents Association has a network of top-rate fiduciary buyers agents and brokers. Click here to access top buyer agents.
Talk to your lender about the pre-approval process. When it's time to begin seriously looking for your new home, you will want to have a pre-approval in place so that you can show sellers that you are serious about any offer you may make and that you are approved for a home mortgage.
In the meantime, you'll want to check your credit score and your credit report to ensure that there are no mistakes. If your score is less than optimal, explore strategies for raising it in the months ahead. These can include:
Paying bills on time
Having rent and utility payments added to your credit report
Paying down debt and avoiding accruing new debt
Determining your price range
By working with your lender you'll be able to come up with a ballpark price range for your home search. This will be important as it will help you to narrow down the neighborhoods, home types, and home sizes you should be considering.
Remember, just because you qualify for a certain amount, you don't have to shop at the top of your budget. Consider your lifestyle, other debt, future plans, and disposable income needs when determining your home purchasing power.

Comparing potential markets for your search
This is a good time to begin looking at markets where you might be inclined to move. Talk to your real estate agent to find out what features you'll find in the areas you're considering. Determine what you are looking for so that you can narrow down your search. Do you care more about:
Recreational opportunities?
Children's programming?
Dining and nightlife?
Convenient shopping and services?
Commute times?
Larger lot sizes?
Larger homes?
Resale potential?
If possible, spend some time in your potential neighborhoods. Shop at the stores, eat in a local restaurant and visit a nearby attraction. Check out the people to see if they seem like good future neighbors for you and your family.
Comparing potential home styles and features
Spend some time looking over listings to determine what home styles and features are most important to you. Put together a wish list and prioritize with must-haves, nice-to-haves, and optional items. Determine how different updates, upgrades, and other features impact price. Consider what you might be willing to add or change after the purchase and what you'll want to have completed before you move in.

Preparing for associated expenses
Buying a home brings with it a large number of expenses before, during, and after the purchase process. It's important for you to have an idea of these ahead of time so you can assure that your savings are adequate. Remember, you won't be able to run up additional debt while your mortgage is underwriting, so it's important to have a budget in mind before you begin.
Expenses for your home purchase may include any or all of the following:
Needed repairs and improvements
New furniture and design elements
Moving costs
Downpayment
Planning for your upcoming move
Once you've determined where you're moving and the type of home you'll move into, you'll need to begin planning for the move itself. If you're in a rental home, check with your landlord to determine how much notice you'll need to give before ending your lease as well as what information needs to be included in that notice. You'll also want to check on month-to-month rental options, in case you are not ready to close at the end of your current lease.
If you're moving with children, you'll want to spend some time preparing them for the emotional impact. If possible, take them to visit their new neighborhood, play in the park, or spend a day with classmates at their new school. The more you can do to communicate and demystify the process, the more comfortable and excited the youngest members of your family will be on moving day.
Ready to Move to Florida? If you're looking to hire a buyer's agent to help you buy or sell a house, look no further!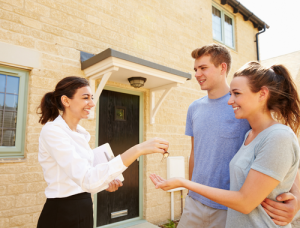 National Buyers Agents Contact information. Live staff is available 7 days a week from 6 am to 6 pm MST to assist you
The National Buyers Agent Association has a network of top-rate fiduciary buyers agents and brokers. They also have a great network of top-rated listing agents.  A top agent will mostly have well-established connections to other business professionals who can help make your move less stressful. Such as movers, landscapers, renovation experts, and used furniture dealers.
So, if you want to buy, sell, or even rent a house, contact us, and let us help you have a stress-free process. Simply communicate your needs by filling out the online form where you can get immediate results for fast access to top buyer agents, or call 800-383-7188, Mondays through Sundays.
Check out the A+ rating the service has with the Better Business Bureau here: https://www.bbb.org/us/co/evergreen/profile/association-management/skyfor-inc-1296-90275771