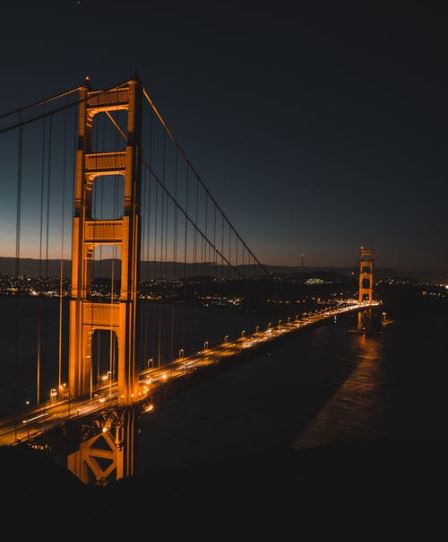 We all dream of going to the big city. If you've been living in the countryside especially, I bet one of your early childhood dreams must have been to study, work or live in one of the famous big cities. Now you're a grown-up, you're probably ready to make that dream into reality. If only it's that easy. Most of us don't really know how much of a challenge it is to buy a house until we begin. And what's more, moving to the city may present a little more challenge than we anticipated! Don't fret yet. Today might just be a great day to learn a trick from one of Buyer Agent Search Network's Top Buyer Agent- Cheryl. In her exclusive interview, she shares how short term rentals can help home buyers who are moving to San Francisco, CA.
Cheryl has been in the real estate business for 15 years. She continues to educate herself and takes her craft very seriously. She aims to provide the best possible experience for her home buyers. Watch and listen as Cheryl tells us in an exclusive interview with Kathleen Chiras, owner/CEO of Skyfor's Buyer Agent Search, how she selflessly assists her buyers to navigate through the very complicated real estate of San Francisco, CA:
What's In It For For Home Buyers Moving To San Francisco, CA?
According to U.S. News & World Report published in August of 2019, San Franciso made it to the Top 10 Best Places to Live in America: 
"To determine its list, U.S. News & World Report used data from sources like United States Census Bureau and the Department of Labor to determine factors including strength of job market (i.e., unemployment rate and average salary); quality of life (crime rate, well being and quality of education and health care); and value index (annual housing cost and median annual household income). The magazine also polled approximately 2,500 people across the country to find out in what metro areas they would most likely live, to determine desirability."

– CNBC
Big cities like San Francisco, truly have a way of making people believe that anything is possible and that there's plenty of room for life's successes. That is totally a healthy mindset. But it also is without a doubt, among the least affordable cities to live in based on the numerous studies and reports.
Let's briefly discuss some of the compelling reasons why it will be good to relocate or even retire in the area:
Employment/ Career Opportunities. Another report from U.S. News & World Report states that San Francisco ranks second among The Best Cities in the US to Work In. There's a lot of career opportunities because of its tourism, technology, finance, and business. It's reported that San Francisco residents enjoy a high median annual salary of nearly $70,000. Some of the biggest social media companies have headquarters or offices in San Francisco such as Twitter, Pinterest, Facebook, Instagram, and LinkedIn! It means that the corporate world is thriving in the cities of California and that job opportunities are never scarce. So, if you have secured a job that pays quite well, paying rent or home mortgage should be manageable.
Culture and Social Life. While the notion of living in a city is often loud and restless, San Francisco is quite the opposite. The adventures you can do visiting the Golden Gate Park, Twin Peaks, Ocean Beach, Baker Beach and all the other places that will calm and simply inspire you. You can be in the middle of the city, the beach or the mountains in a day! Isn't that exciting? Plus if you ever run out of places to go to, remember it's near other great cities like San Jose, Santa Cruz or Palo Alto. The weather might get too cold for you but I am pretty sure that you won't get bored!
Selection of Great Schools and Universities. Families who are relocating to another area always worry about which schools or universities they can send their children to. But this should not pose a problem because San Francisco and the whole Bay Area are known to be the home of some of the best universities. Stanford University, UC Berkeley, University of San Francisco are just some of the great ones to choose from. With San Francisco in the heart of Silicon Valley, these colleges have opportunities to grow and lead in science and technology. Apart from tech, universities here also offer some great courses in art and music. The only other challenge now is how to choose the best one for you or your children.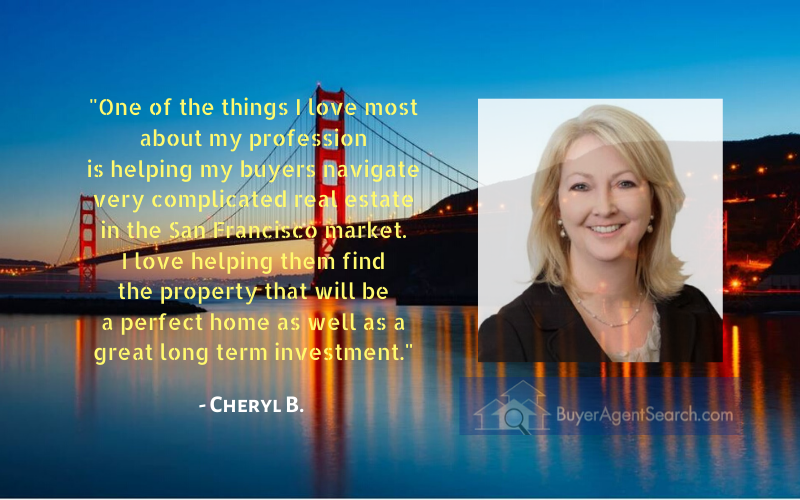 Definitely there are more beautiful reasons that will make you want to move to San Francisco. But even with the sky-high cost of living, the city continues to get a steady influx of interested settlers. Did I mention that San Francisco also made it to the list of The Best Places To Retire in the US? What an awesome city!
Why Buyers Need Short Term Rentals In Moving To San Francisco, CA?
Based on Forbes' Top 20 Least Affordable Cities to Live In, California alone took 14 out of the 20 spots. The report mirrors what Cheryl mentioned during the interview:
"The median price for both counties of San Mateo and San Francisco for a single-family home is about $1.6M. Most people have sticker shock when they move out here from other parts of the country. Because we do have some of the most expensive real estates. And the biggest challenge I see for our buyers getting into our market is the price as well as the amount of downpayment. We understand how hard it can be to save up 10 or 20% down to get into a property."

~ Cheryl B. – BAS Top Buyer Agent San Francisco, CA
Because the price of real estate properties in San Francisco (or in California as a whole) is no joke, I see the value in what Cheryl recommends her potential buyers to do first before actually buying. If you are considering a move to the city here's why a short term rental may be a wise start:
Get acclimated to the area. Short term rentals should give you the opportunity to be familiar with the neighborhoods and the people in it. This process should tell you if it's the best place you want to live in and if you're able to maintain the lifestyle.
Do careful research. Rushing to buy in an area where there's a short inventory of available properties may not be ideal. It will be best to do extensive research and find properties with your trusted local agent. Take your time to find that property that will be both a great home and a long term investment for you. Recently in the news, I read that 65% of people living in San Francisco are renters. That means only 35% own their spaces. So it all boils down to knowing the tricks and doing them with the right person.
Short term rental benefits. San Francisco has a small pool of available real estate properties on the market. Potential buyers who are already living in short term rentals can get a head start looking and making offers as soon as a property gets listed on the market. As always, preparation and timing are very important in pursuing properties located in areas that of high demand. Cheryl also gave an example in the podcast of how she helped a buyer buy a property that had rental possibilities itself, adding to the affordability of the mortgage payment.
Cheryl's recommendation to do short term rentals makes a lot of sense. It's very important that buyer agents are able to communicate clearly why it is beneficial to do rentals as part of the home buying process. After all, buyers need thorough guidance because they may be stuck with it forever. It might as well be a good investment.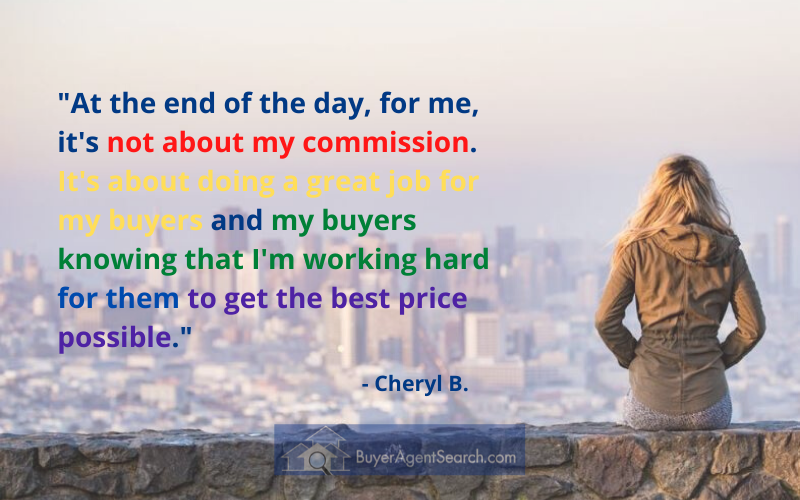 How Do Buyer Agents Protect Home Buyers?
Personal experiences play a big part in how a person conducts his/her business. Oftentimes they influence how we make our choices and how we treat people in general. In the past, Cheryl briefly shared that she got into litigation with her sellers when she bought her own property. It inspired her to get her license as a realtor. She made a conscious decision to continually expand her knowledge through seminars and acquiring certifications that aid her in her profession like becoming an Accredited Buyers Representative (ABR). An ABR is committed to serving and protecting the best interests of the buyers in real estate transactions.
With that said, Cheryl looks after her clients by making sure she exercises the following:
Stay Diligent and Highly Focused. Because Cheryl wants to avoid any sort of litigation for her buyers, she makes sure that all contingencies and inspections are included in the contract negotiation. She never wants her buyers to be victims of properties that are considered a money pit. She would rather have them walk away and do the process all over again than allow them to invest in a bad property.
Provide an Offer Strategy. Writing offers can be challenging especially in San Francisco where there is a low inventory on the real estate market. There's a high chance that you and other potential homebuyers will be competing for the same property. So, teaming up with an exceptional buyer agent who is on top of her negotiation skills is essential. It increases the likelihood of making offers that are acceptable to sellers while protecting the buyer's interest. Cheryl loves to negotiate and she takes pleasure in maximizing her services to benefit her clients.
Put her buyers' interest above her own. Cheryl does not mind bargaining for the house prices. As a matter of fact, she was able to negotiate the best price and got a huge reduction of $130,000 off the listing price for one of her previous clients. She could have taken home a higher commission but she wanted what was best for her client. In the video interview, Cheryl said, "At the end of the day, for me, it's not about my commission. It's about doing a great job for my buyers and my buyers knowing that I'm working hard for them to get the best price possible."
Where Can You Find Exceptional Buyer Agents?
Get a recommendation for a buyer agent who can work a plan with you. A professional who knows the market inside out and has a serious understanding of what it takes to purchase a home. Someone like Cheryl whose recipe for success is filled with integrity, dedication, and selfless intents. Find these kinds of services through a company that provides a third-party oversight, like Buyer Agent Search!
Buyer Agent Search provides top-rate fiduciary buyers agents who can ease you through the complicated process of home buying. Take advantage of the free consultations anywhere in the United States, Costa Rica or Canada. Simply communicate your needs by filling out the online form. Most results are immediate. To make sure you got the recommendations you were expecting, the Skyfor team will contact you back in no time. Get access to top buyer agents whose expertise can protect your best interests in the process of home buying. Call 800-383-7188, Mondays through Sundays and talk with any of the staff or Kathleen Chiras herself. And if you could, you may also check out home-buying videos available on our YouTube channel. See you there!