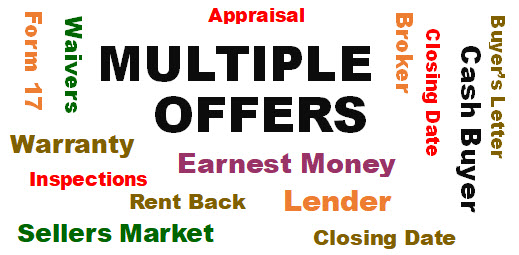 How to Win a Multiple Offer When Buying a Home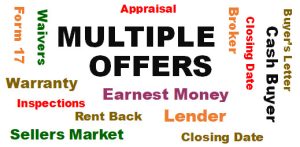 How to Win a Multiple Offer
Getting prepared in a bidding war is essential for providing optimal service to your home buyer client.
Low inventory in a sellers' market can be difficult for buyers and knowing how to position yourself is key to buying the home of your dreams.
If you are in the position that you want to place the winning offer, you'll have to go all-out to ensure your offer is the most appealing to the seller.
Make sure Pre-approval for a mortgage is in place
First, hire a mortgage broker and get pre-approved for a mortgage loan. A pre-approval can be a good starting point.  Try to shop mortgages without having your credit pulled multiple times, which can hurt your credit score, and get your documentation together.
In seller's market or any market for that matter it is best to be pre-approved for a loan. Pre-approval requires you to complete an official mortgage application where a professional will help you do an analysis on your income and asset documents, examine and help you choose the best mortgage option.
Good tips on How to get Pre-approved for a Mortgage
Avoid Hubbard's Contingency
Having a contract with a Hubbard contingency will put you on a good position in a multiple offer scenario.
If you are looking to buy a home in a sellers market,  it is recommended to sell your home before buying. With multiple offers there is little chance a seller considers  buyer with Hubbard clause. Sellers will not likely be willing to wait for you to sell your home with other stronger offers on the table even if your offer is higher.
Shorten Time Frames
Shorten all your time frames for home inspections, mortgage commitment, appraisal contingency dates, and closing dates. Working with the seller to meet their time frames for moving will be a be advantage. 
Add an Escalation Clause to Offer Over Asking
When in a multiple offer situation homes can go for thousands over the asking price. Maybe you are willing to pay more but you are concerned the home will not appraise preventing you from obtaining a mortgage. Your realtor and mortgage broker will be able to help with this. Putting more money down upfront might be the solution.  Escalation clauses can be tricky as you do not wish to overpay for a home, as new inventory comes on the market every day.
Your Realtor should do a market analysis on the home to see if it priced at fair market value and guide you on what to offer, and let you anticipate if it will likely be a bidding war.
Some buyer agents are adept at helping buyers use an escalation clause. That says you are willing to outbid any other offers on the home by a certain amount, up to a certain price which is the most you are willing to pay. This puts a cap on price. An escalation clause protects you financially because it prevents you from paying more than you need to.
Cash is a King
A cash offer eliminates the need for an appraisal and bank approval for a loan contingency. A cash offer shows the seller you are serious about the house and ready to buy it today.
Hire an Experienced Real Estate Agent  
An experienced realtor can help you gain the upper hand as you navigate a multiple offer bidding war.
National Buyers Agent Association helps you decide on Why you should use a Buyer's agent. 
If you are planning to buy a home soon, the National Buyers Agent Association has a network of top-rate fiduciary buyer's agents, and brokers. Buyer agents mostly have well-established connections to other business professionals who can help make your move less stressful. Simply communicate your needs by filling out the online form where you can get immediate results.  Also, the association manager, Kathleen Chiras, and her staff will contact you back as soon as possible. For faster process to top buyer agents, fill out the form or call 800-383-7188, Mondays through Sundays.
The Buyer Agent Search Service has a wide network of top-performing agents throughout the 50 states in the United States. It is a trusted consultation service at no cost. We specialize in suggestions of best-performing Buyer Agents. This is a FREE service to all real estate buyers or sellers.
Prepare a Personal Letter
It is possible to tip the scales with the seller by writing a sincere expression of how much you love the house, and how you can see you and your family living there happily for many years. Homes hold many memories, and it is often very difficult for seller to move on.
It is important to sellers that someone will love and care for the home they raised a family in. In a bidding war a personal letter could earn you enough goodwill to move you to the front of the pack. 
Write a Stron
g Contract that Appeals to Sellers
Another angle to simply come in with the best possible offer you can reasonably afford, one that still meets all the other parameters. Then live with it whether you win or lose the house.