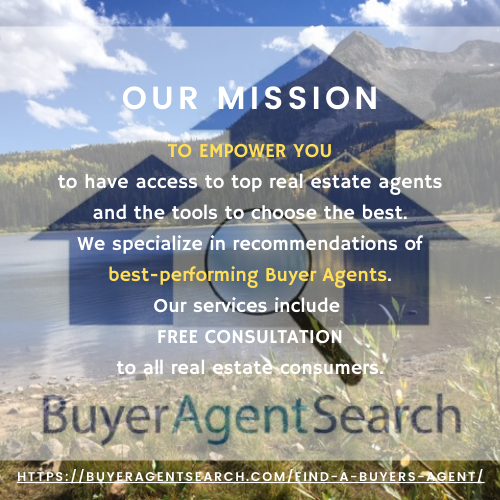 How do you find the right buyer agent? There are many ways you can find the agent you need. But is it easy? Not necessarily. What with over a million licensed realtors all over the US, it might get overwhelming to do it alone. It's why many buyers end up working with the agent that's either referred by someone they know or the first one who talks to them. So, today let's discuss how you can actually find the right buyer agent from the country's best agent finder!
I am elated after 2 years of searching for a home on my own to have discovered Buyer Agent Search! Kathleen C is just the most charming, endearing, helpful, professional, caring person imaginable! I went looking for a home on both the West and East Coasts. Every time I fall in love with a specific property on line that I find, I give the ever patient and kind Kathleen a call. Right away she connects me with a buyers agent in that vicinity. Usually you find an area you are going to move to first THEN get one agent, but Kathleen has never, even for a micron of a second, made me feel uncomfortable with my multiple requests spanning our Country. A Billion Thank Yous Kathleen and team for your hard work and dedication!
–Deena Johnson, buyer relocated from CA to OH
Kathleen Chiras, the owner/CEO of the National Buyers Agent Association, has been providing top agent recommendations for over 20 years to thousands of buyers from all 50 states. Listen in as she speaks about how she started her mission of providing thousands of aspiring homebuyers expert guidance and connecting them with top-rate buyer agents:
Before you find the right buyer agent:
Decide to be a buyer first and foremost. Some buyers end up quitting in the middle of the home buying process. And most of the time it is because they are not emotionally prepared. Also, we see many buyers get discouraged with the hot seller's market and low inventory across America. Most agents agree that appreciation in property values may well continue. However, buyers with good agents ARE buying homes!
The fact is, whether or not you are financially ready if your mind (and heart) is not fully set on buying there's a high chance that you'll end up quitting early in the process. It can cost valuable time and money to start and stop your property search. To avoid that, take one step at a time. Make a list of your needs and wants about the home and include what you're looking for in your buyer agent.
And while you're at it, do not forget to build your credit! See our other blog What First Time Home Buyers Need To Know.
Are you required to find a lender before looking for a buyer agent?
No. However, getting in touch with a lender is a good strategy in today's competitive market. Buyers who secured proof of funds have a higher fighting chance as many sellers prefer them other than cash buyers. This is why your buyer agent may request the pre-approval letter to see how much you qualify for. It also helps filter the properties to look for.
So as soon as you think of buying a home, consider seeking a financial expert's help. Ask their assistance to assess your financial readiness, find out what loan type best suits your needs and what can be done to make the home purchase possible.
Highly Recommended Tips to Find The Right Buyer Agent:
1. Determine which town and state you want to be in and focus your search for local buyers agents.
It helps narrow the search if you have determined where you want to buy. In most cases, licensed agents in a certain state can help anywhere in that state, but the reality is, not all agents will have access to the multiple listings service (MLS).
According, to the National Association of Realtors' website: The MLS is a tool to help listing brokers find cooperative brokers working with buyers to help sell their clients' homes. Real estate professionals create, maintain and use these private MLSs to help their clients buy and sell the property. In most cases, participating brokers provide free access to MLS listings to the public.
However, agents and brokers may not have access to all the MLSs in a state. This is why the association encourages buyers to narrow their property search to a town or two, or a specific county.  Usually, it is best to pick agents who are within 30-60 minutes of the town.  You want agents to have access to the MLS and at the same time have local knowledge of the community and the current market situation in that area.  The association buyers agents list all of the counties and towns they serve.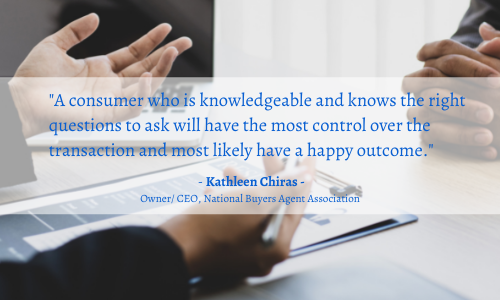 2. Check the agent's license and acquired certifications. 
Ideally, all realtors should be updated with local market trends and neighborhoods in the town.  Savvy consumers will look for someone who is certified to work with buyers such as an Accredited Buyers Representatives.  
A real estate agent with an ABR designation focuses on working directly with buyer clients and also provides the following:
Valuable real estate education and enhanced skills and knowledge to effectively work with homebuyers.
Ongoing specialized information, programs, and updates that help the agent stay on top of the issues and trends in successfully representing homebuyers.
Access to marketing tools and buyer resources, which provides an additional competitive edge.
This is not to say that those who do not have the specific designation are not worth a try.  Sometimes decades of experience will make up for that! The point is, if the agent spends time and money to continuously educate himself or herself, it's a good indication that they take their business seriously. You want someone who does not stop learning, because, in the ever-changing economy, and life in general, nothing stays the same.
See other types of agent certification here: Real Estate Designations.
3.

Not all agents are made the same.

This is true in every profession. Some are naturally good at what they do and are better than the rest. And others will have earned their skills through years and years of experience and self-education.
The way to weed those top-rate agents out is by doing the following:
Interview at least 2-3 agents before you decide who you want to work with. Don't jump the gun and hire the first agent you speak with. Instead, continue to interview at least 1 or 2 more and then decide who best fits your needs. Assess and gauge their abilities by asking them specific questions. It could be about the property or difficult situations that matter to you as a buyer.  See the list of interview questions that you can ask your buyer agent here: How To Choose A Buyers Agent
Dig deeper into the realtor's background. Avoid hiring a realtor on the basis that they're a relative or a friend. The logical explanation is to get a much more objective opinion throughout the home buying process. Hence, hire the agent on the basis of their ability to provide high-level fiduciary services and truly represent your best interest. See our other blog about finding a legit buyers' agent.
Looking for the Right Buyer Agent To Help You Relocate anywhere in the US?
If you don't have much time in your hands then it would make sense to seek professional help who can do this for you. The National Buyers Agent Association has a network of top-rate fiduciary buyers agents and brokers. The association monitors the quality of the services provided by maintaining close communication with buyers and the agents. Additionally, these experts can provide free consultation services anywhere you are in the United States. Simply communicate your needs by filling out the online form where you can get immediate results.
Also, the association manager, Kathleen Chiras, and her staff will contact you back as soon as possible. For faster access to top buyer agents, fill out the form or call 800-383-7188, Mondays through Sundays. The service is continually adding new home-buying videos, so check out our YouTube channel today! See you there!
Check out the A+ rating the service has with the Better Business Bureau here: https://www.bbb.org/us/co/evergreen/profile/association-management/skyfor-inc-1296-90275771