Useful Tips For Buying A Vacation Home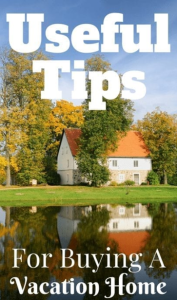 How Can Buying a Vacation Home be a Great Investment  
Buying a vacation home comes with both rewards and risks, including the possibility that if you plan to rent the home for income, you may not earn enough to offset your expenses. That's why it's crucial to crunch the numbers carefully and estimate the cost of owning a vacation home before investing in a property.
Location is important when buying a Vacation home
While many indicators can determine the success of a real estate investment, location is among the most important factors to consider when it comes to vacation property. especially if you plan to rent out the home. The more appealing the location is, the more interested potential renters there will be.
Know your budget
The price of owning a second home can be steeper than you think. There are recurring costs that must be factored in, as well as unexpected expenses such as a sudden breakdown of an appliance or major system.
With all of the information we have access to on the internet these days, there's no reason to be in the dark about what you can and cannot afford. Before you buy, calculate an estimation of what your mortgage will be.
Some major costs :
The mortgage with possible increased interest rate
Homeowners Insurance – Keep in mind that you may need special insurance coverage like landlord insurance, if you plan on renting out your vacation home.
Property Taxes – this can vary generally by state and county or region. There are other taxes to consider, too, including income tax and sales and lodging tax. Check this link about Renting Residential and Vacation Property  
Utility Bills
Maintenance and Repairs
             3. Built homes are better than empty Land
For some, a custom-built house sounds pensive and interesting, it can also be more of a misery. In vacation areas, there are a lot of restrictions on how you can build your home. Dealing with contractors can be stressful.
As a matter of fact, buying a built house can be a better decision. From there, you can make modifications as you like without having to go through complications of building from the ground up.
            4. Hire a Real Estate Agent Locally
National Buyers Agent Association has a network of top-rate fiduciary buyer's agents, and brokers. Buyer agents mostly have well-established connections to other business professionals who can help make your move less stressful. Simply communicate your needs by filling out the online form where you can get immediate results.  Also, the association manager, Kathleen Chiras, and her staff will contact you back as soon as possible. For faster process to top buyer agents, fill out the form or call 800-383-7188, Mondays through Sundays.
The Buyer Agent Search Service has a wide network of top-performing agents throughout the 50 states in the United States. It is a trusted consultation service at no cost. We specialize in suggestions of best-performing Buyer Agents. This is a FREE service to all real estate buyers or sellers.
WHY VACATION HOME CAN BE AN INVESTMENT?
We know that vacation homes are perfect for enjoying time with family and friends. But what makes them such an excellent real estate investment?
Tax Advantages
Did you know that owning a second home can provide you with some significant tax breaks? In fact, you can deduct the interest on the mortgage of your vacation home in the same way you do for your primary residence.
You Can Rent It Out
Why not make some extra cash off of your vacation home while you're not using it? Renting your house out to others is a great way to do just that.
And because you own this property, how you rent it is entirely up to you. You can offer it up seasonally or year-round if you prefer.
Just be aware that if you decide to rent out your vacation home, it will change the details of your taxes. So, before you make any decisions, consult your accountant or other tax professional.
It Can Serve as a Retirement Home
You're buying a vacation home in a specific area because you love it, right? So why not plan to retire there when the time comes?
Instead of having to deal with the hassle of buying a new home when you retire, you'll already have one that you love, totally set up and waiting for you.
You will also be able to take advantage of the market's prices years in advance.
Here some things to consider when buying a retirement home. Use these tips to make a sound decision with your purchase.
A Friend or Relative Can Live There
If you're planning to purchase a second home as a real estate investment, it's often a great idea to let a family member live there as its value appreciates. For example, if you have a kid that's going off to college, purchase a vacation property near to their school.
That way, they can have a beautiful, comfortable place to live while studying, and once they're done, you can sell it for a profit.
Buying a Vacation Home Will Diversify Your Investments
Adding a vacation property to your list of investments is a great way to boost your cash flow. After all, it's always a smart idea not to put all of your eggs in one basket.
Many investment markets are fickle, real estate being one of them. By spreading your investments around, you can take advantage of selling the right things at the right times. And it's never going to be that hard to sell an extraordinary home in a fantastic place for a gorgeous profit!