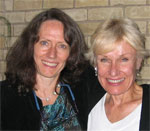 Evergreen, CO – A new service for real estate agents in Skyfor's network of 1,000 top agents was released last week.  Here is the gist of the announcement:
Premier Partners in Skyfor's referrals network are invited to consider a new referrals feature that will association members access to top agents for their out-of-service area buyer leads. It is especially geared towards the people with whom the REALTOR already has a relationship with: friends, family, and former clients. This group of people trusts their REALTOR friend to give great recommendations for other professionals as trustworthy and competent as themselves.  However, most real estate professionals do not service areas much more than an hour from their main office. This presents a problem when the real estate pro needs to come up with a good recommendation
Out-of-service-area referrals take a lot of time and energy for most agents to appropriately place. And to protect your liability risk, it is usually wise to refer to 2 or 3 agents. Skyfor gives buyers at least 2 choices every time. Qualified buyers are extremely likely to go to closing with our exceptional agents. Skyfor closely follows up to make sure your buyers are being well served.
Over 100 brokers in Skyfor's network have already indicated an interest in the new program.  They have been promised a second email from Skyfor that will explain how the new program works.
Broker/owner Norris Minick of Boulder CO, recently used Skyfor's service.  Norris says, 
"Kathleen has a network of agents around the country who's she referred buyers to for the last 25 years or so…so she knows how to interview agents…but more importantly…in most markets…has agents who she's referred buyers to and has experience from multiple transactions as to which agents to a good job and which don't.  That…rather than whether they can interview well…is what's important…
"Kathleen understands buyer agency well. She has interviewed thousands of agents over the years in order to find people who will do a good job representing a buyer in a purchase".
A consumer recipient of the service, Bill Gleason,  had this to say about the way referrals are handled by Skyfor's Buyer Agent Search Service:
"Couldn't be more pleased or impressed. Kathleen combines a wealth of experience with a high level of efficiency and makes you feel like she is genuinely interested in your needs and goals (you can't really fake that, IMO). Things happened so quickly after we spoke that we literally could not handle all the calls that were coming in – agents in the Roanoke area that she asked to contact us. Thanks again!" 
Skyfor has professionally handled referrals for over 20 years and has referrals agreements with over 1,000 top agents.