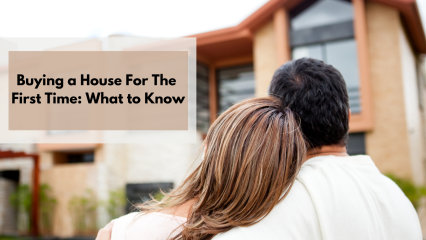 If you're planning on buying a home for the first time and are feeling a little overwhelmed, you are not alone. Buying a home for the first time is the most significant financial decision many people have ever made.
It makes sense to cautiously approach the process and strive to learn as much as possible before you finally pull the trigger. Fortunately, there is a lot of good advice available to help you navigate the buying process.
Do your research, find tips that apply to your situation, and strive to make decisions based on what is best for your specific needs.
Arm yourself with as much financial and real estate knowledge as possible before you finally pull the trigger on buying a home.  A significant percentage of first-time homebuyers make mistakes because they focus too much on looking at homes and not enough effort on other details.
Let's take a look at all these thoughts about buying a home for the first time!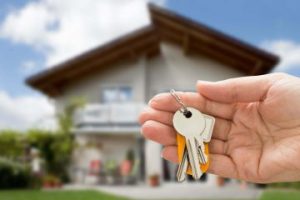 1. Start Saving For Your Down Payment as Soon as Possible.
One of the most important things to do when buying a home for the first time is to plan your finances in advance! Putting a down payment on a home is a big undertaking. Considering the price of most homes today, it will probably take you some time to save enough money for a down payment of any significance.
Sometimes, you may not necessarily need a big down payment – some mortgage programs let you pay as little as 3% down. But keep in mind, the more you pay down, the better your financial situation will likely be.
2. Research Mortgage Programs That Might be Available to You.
Here's a great tip on buying a home for first-time home buyers: There are a lot of programs out there that help first-time homebuyers get a home. You could very likely be eligible for one or more of them. There are the standard conventional mortgages available to anyone with decent credit.
A reputable real estate agent will be able to help you find loan programs that you are eligible for. More than likely, they will put you in touch with a mortgage broker they have been doing business with for quite a while.
You can also do some research online to find programs that might match your financial needs. Just make sure you start looking sooner rather than later. The kind of mortgage program you choose can influence your home buying process, like determining how much house you can afford.
3. Decide How Much You Want to Spend.
A significant step when buying a home for the first time is creating a budget. There are plenty of homebuyers out there who got approved for big mortgages and maxed them out, then regretted their decisions for years to come.
Just because a lender is willing to give you the money does not mean you can actually afford to carry a big mortgage. You also want to be sure that you can take care of other financial needs, like savings and retirement, while still paying your house payment.
Use a home affordability calculator to get an idea of how much home you actually can afford and go from there.
4. Check Your Credit Before Buying a House.
Your credit score can greatly affect the financing options and the interest rate you have when buying a home. It is important to note that the interest rate you receive can impact you financially for many years to come.
Before becoming a first-time homebuyer, it makes sense to achieve a good credit score first. If you don't have the best credit, it might make sense to hold off on buying. Those with the best credit scores get the best rates.
5. Improve Your Credit Score Before Buying a Home.
Another significant first-time homebuyer tip is to get your financial house in order before buying. If your credit score is not high right now, you might be better off taking some time to improve it before you get a loan.
You can also make a plan for improving your credit and execute that plan-but only once you know where your credit actually stands. If you find that your scores are really not where they should be, I would suggest using a credit improvement company.
6. Pay Off Your Debts.
If you have significant debts such as student loans or other high-cost mortgages, it will make sense to get them paid down. It is advisable to have minimal debts when purchasing your first house. If you have high credit card bills, take care of them.
7.  Find a Top Shelf Mortgage Broker.
One of the more essential first-time homebuyer tips is finding people to work with that are trustworthy. Picking a lender to work with when buying a home is critical. You want someone who knows their stuff and will be able to provide you with sound financial counseling.
Members of the National Buyers Agent Association are skilled brokers that can help you seek out the best loan programs that match your needs from multiple lending institutions.
Using a mortgage broker will almost always ensure you get the best mortgage terms.
8. Get Mortgage Pre-Approval Done Early.
One of the more important things a first-time homebuyer should do is get pre-approved for a mortgage before looking at homes. Many buyers get confused by the difference between pre-qualification and pre-approval. Getting pre-qualified for a mortgage is a quick, relatively painless process requiring only a few essential information points.
Sellers want pre-approval, not pre-qualification. Pre-approval requires going through most of the process of getting an actual mortgage. But going through all that effort gives you a letter that says you are very likely to get the mortgage as long as nothing significant changes with your credit or you lose your job. A pre-approval letter is a must when you are shopping in a competitive market.  It can be almost as good as a cash offer.  There are other creative lending programs that can give you cash based on your financial situation so you can compete on a level playing field with other cash buyers.
9. Put in The Time to Find an Excellent Real Estate Agent.
You want a buyer's real estate agent who is skilled, knowledgeable, and motivated and someone who knows your local market. It can be tempting to hire your relative, who got her license five years ago and has had two clients, but that would not be the best choice.
Buying a home is a big deal. You want someone you can depend on to deliver the best possible experience and ensure that you get what you want and need from the process. Members of the National Buyers Agent Association have a great network of top-rated real estate agents.  A top agent will mostly have well-established connections to other business professionals who can help make your move less stressful. Such as movers, landscapers, renovation experts, and used furniture dealers.
10. Think About The Neighborhood as Much as The House.
One of the common first-time homebuyer mistakes is putting too much emphasis on the house and not enough on the surroundings. The neighborhood in which you are buying should be considered as well.
Will you be happy in the place you have picked? Do you plan on having kids? If so, how are the schools? Is the home close to major routes for easy commuting? Don't forget about the other things that could be important in your life.
11. Listen to Your Real Estate Agent.
As long as you hire an agent you trust, you want to make sure to listen to his/her advice. They have probably gone through numerous problems.
When the going gets tough, lean on your buyer's agent. That is one of their roles in the transaction.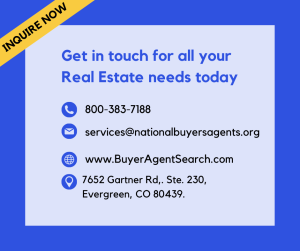 National Buyers Agents Contact information. Live staff are available 7 days a week from 6 am to 6 pm MST to assist you.
The National Buyers Agent Association has a network of top-rate fiduciary buyers agents and brokers. They also have a great network of top-rated listing agents.  A top agent will mostly have well-established connections to other business professionals who can help make your move less stressful. Such as movers, landscapers, renovation experts, and used furniture dealers.
Simply communicate your needs by filling out the online form where you can get immediate results for fast access to top buyer agents, or call 800-383-7188, Mondays through Sundays.
Check out the A+ rating the service has with the Better Business Bureau here: https://www.bbb.org/us/co/evergreen/profile/association-management/skyfor-inc-1296-90275771