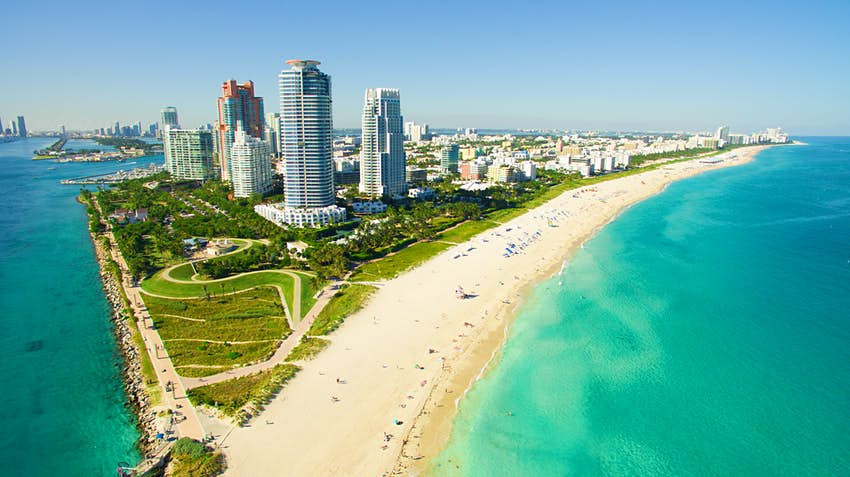 Florida's residents are from all walks of life—some are lifelong natives, while others moved to the state for a fresh start. From beach dwellers to artists to students to families to retirees, Florida is full of kind locals who are more than happy to welcome new neighbors.
Thinking of moving to the Sunshine State? Here are some great cities:
1.  MIAMI BEACH
This city of more than 92,000 residents features the largest collection of art deco architecture in the world along with great beaches, top restaurants, and dynamic night spots. While the city has a reputation as a party place, there are many family-friendly things to do in Miami Beach. Nearly 20 distinct neighborhoods grace the city's landscape, making Miami Beach a magnet for diverse groups of residents as well as tourists. Miami Beach ranked as one of the 2018's Top 100 Best Places to Live!
2. DESTIN
Destin is a small fishing/beach town located on a peninsula in Florida's northwest Panhandle area of the state. One side of town has beaches located right on the warm clear waters of the Gulf of Mexico. The other side of town is bordered by the Choctawhatchee bay. All of that water surrounding the town is one reason this great little place is on our best places in Florida for boating and fishing list too.
Destin schools consistently receive the A+ rating from the state of Florida. Destin offers a quality of life that folks have come to cherish!
3. TAMPA
Along Florida's west coast near the Gulf Mexico, Tampa continues to grow in population thanks to good schools, excellent health care, and several Fortune 1000 companies doing business there. Downtown Tampa is undergoing vibrant development with young professionals moving in, and entertainment options include professional sports, night spots, and great restaurants, creating lots of things to do in the city.
Whether it's popping into a museum for the afternoon or biking through a nature preserve, there's no shortage of interesting (and affordable) things for Tampa residents to do. The city also has a thriving LGBTQ scene, and its Pride events are not to be missed.
4. NAPLES
If you have big money, Naples might be perfect for you. The city has one of the highest proportions of millionaires per capita in America and is a great place to retire. The city is small and cozy, with a population of around 20,000, but packs a major punch with an n excellent school system and great health care.
Naples is especially popular with tourists due to its proximity to The Everglades and Ten Thousand Islands.
5. MIAMI
No list of the best places to live in Florida by the beach can be completed without Miami. The city needs no introduction and is best known for its rich blend of cultures, excellent nightlife, and some of the best beach parties in the world.
There are also three professional sports teams that you can watch here, as the Dolphins, Marlis, and Heat are all located in Miami. The famous Miami Beach is just 20 minutes from Downtown Miami and features fun and excitement all year round.
6. TALLAHASSEE
Even though it's the state capital, you might say Tallahassee feels like the least Floridian city in all of Florida. For one thing, it enjoys four different seasons as a result of its unique position on the panhandle. Tally (as some locals call it) feels more like a little slice of southern heaven.  You'll have plenty of fun activities to do since Tally offers a college-town vibe thanks to its surrounding universities!
7.  LAKELAND
Our next city is a land of lakes! (No, not the butter.) Lakeland is home to nearly 40 beautiful lakes, so you'll have plenty of options to enjoy Florida's weather on the water. It's also close to popular cities like Tampa and Orlando. That's right! Disney World and Universal Studios are less than an hour's drive away!
Here's a 1-minute guide to home buying in Florida, including median sales prices of homes in the state and current trends. The advantages of using a buyer's agent are addressed, along with useful tips about how to begin the home-buying process for experienced as well as first-time home buyers.
National Buyers Agents Contact information. Live staff is available 7 days a week from 6 am to 6 pm MST to assist you
The National Buyers Agent Association has a network of top-rate fiduciary buyers agents and brokers. They also have a great network of top-rated listing agents.  A top agent will mostly have well-established connections to other business professionals who can help make your move less stressful. Such as movers, landscapers, renovation experts, and used furniture dealers.
So, if you want to buy, sell, or even rent a house, contact us, and let us help you have a stress-free process. Simply communicate your needs by filling out the online form where you can get immediate results for fast access to top buyer agents, or call 800-383-7188, Mondays through Sundays.
Check out the A+ rating the service has with the Better Business Bureau here: https://www.bbb.org/us/co/evergreen/profile/association-management/skyfor-inc-1296-90275771