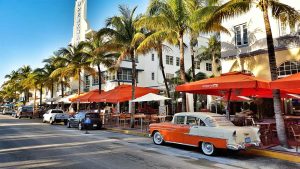 Florida's gorgeous weather draws millions of people each year. It's nearly never too cold to go outside, and no part of the state is too far of a  drive from the beach. With its sunshine, clear-blue water beaches, golf courses, and extraordinary diversity of animals, it's no wonder that so many people want to reside in the sunshine state!
Its diversity, rich culture, delicious foods, and several theme parks and attractions also make it a particularly exciting place to reside.  Here are the best cities for Florida living!
1. JACKSONVILLE
Jacksonville is tied together by bridges, crossing rivers to unite residents in the downtown area with nearby beaches. Restaurants, shops, and entertainment options fill all of Greater Jacksonville's neighborhoods. There are nature trails to hike and marshes to kayak. There is history to see, and there is business to develop.
Jacksonville real estate has been steadily increasing per year, and its workforce is expanding at twice the national average.
2. VENICE
Venice offers 14 miles of beaches and plenty of recreational opportunities, including swimming, sunbathing, fishing, and boating.  Golfers enjoy excellent courses in the greater Venice area. If you're looking for a safe small beach city, Venice should be on your list.
3. TAMPA
Tampa is one of the fastest-growing large cities in Florida and is making its case for being one of the best places to live in Florida near the beach. The vibrant and affordable city offers something for singles, families, and retirees as well.
For those looking for beaches, the warm, welcoming waters of Clearwater Beach and St Pete Beach are just 30 minutes away, while Anna Maria Island, which was the 4th best beach town in Florida, is only an hour away from Tampa.
Here's a 1-minute guide to home buying in Florida, including median sales prices of homes in the state and current trends. The advantages of using a buyer's agent are addressed, along with useful tips about how to begin the home-buying process for experienced as well as first-time home buyers.
4. SARASOTA
This city of 50,000 people on the Gulf Coast enjoys some of the best beaches in all of Florida. Meanwhile, the city itself features one of the richest arts and culture scenes in Florida and continues to attract people of all ages.
There always seems to be some sort of festival going on in the city as well, which really adds to the strong sense of community here.
5. MIAMI
No list of the best places to live in Florida by the beach can be completed without Miami. The city needs no introduction and is best known for its rich blend of cultures, excellent nightlife, and some of the best beach parties in the world.
There are also three professional sports teams that you can watch here, as the Dolphins, Marlis, and Heat are all located in Miami. The famous Miami Beach is just 20 minutes from Downtown Miami and features fun and excitement all year round.
6. Tallahassee
Even though it's the state capital, you might say Tallahassee feels like the least Floridian city in all of Florida. For one thing, it enjoys four different seasons as a result of its unique position on the panhandle. Tally (as some locals call it) feels more like a little slice of southern heaven.  You'll have plenty of fun activities to do since Tally offers a college-town vibe thanks to its surrounding universities!
7.  Lakeland
Our next city is a land of lakes! (No, not the butter.) Lakeland is home to nearly 40 beautiful lakes, so you'll have plenty of options to enjoy Florida's weather on the water. It's also close to popular cities like Tampa and Orlando. That's right! Disney World and Universal Studios are less than an hour's drive away! There's also plenty to do right inside Lakeland with its nature park and one of Florida's top-ranked art museums—the Polk Museum of Art.
Ready to Move to Florida? If you're looking to hire a buyer's agent to help you buy or sell a house, look no further!
National Buyers Agents Contact information. Live staff is available 7 days a week from 6 am to 6 pm MST to assist you
The National Buyers Agent Association has a network of top-rate fiduciary buyers agents and brokers. They also have a great network of top-rated listing agents.  A top agent will mostly have well-established connections to other business professionals who can help make your move less stressful. Such as movers, landscapers, renovation experts, and used furniture dealers.
So, if you want to buy, sell, or even rent a house, contact us, and let us help you have a stress-free process. Simply communicate your needs by filling out the online form where you can get immediate results for fast access to top buyer agents, or call 800-383-7188, Mondays through Sundays.
Check out the A+ rating the service has with the Better Business Bureau here: https://www.bbb.org/us/co/evergreen/profile/association-management/skyfor-inc-1296-90275771