Finding the Best Seller's Agent
Finding the best sellers agents who really understand marketing and negotiations is not as easy as one might think. Iin today's market of little inventory., sellers agents are eager to take your property listing. These kinds of agents are also known as "Listing agents".  In fact, many people choose to do a "for sale by owner"  on the many big  portals out there such as Zillow.  Click here for Zillow Zillow selling without an agent.  This works great if you feel you have the expertise to market and negotiate your home.  While offering a buyers agent a fee to bring buyers to your property is a wise idea, you may be able to save as much as 3% of the sale of your home if you list it yourself.  See our video channel for interviews with some people who chose to sell their property by doing their research and using the assistance of a title company to do the closing paperwork. 
Sellers Agent Questions to Ask
 An objective assessment made with the questions presented below will position you very well to get the best agent and thus the most money and terms on the sale of your property.  Start by obtaining and making appointments with at least two or three Sellers Agents. Resist the urge to go with the first appointment you make.  You are in charge, and there will be more criteria that you know are important to you by the time you get through the 2nd or 3rd interview.
Why is having a list of questions to ask and your knowledge of some excellent answers important? The answer is because then you, not the agent, will control the interview process. Give one point for each correct answer and use this total to select an outstanding seller agent:
Download our Sellers Agent Questionnaire below
Best Interview Questions and Answers to Select a Top Seller Agent.  Hit the download button to get a copy to take with you!
Buying and Selling at the same time?
Buying a property on your own is actually a lot more complicated than selling one on your own.  Download our buyers agents questionnaire in the buyer section of the site.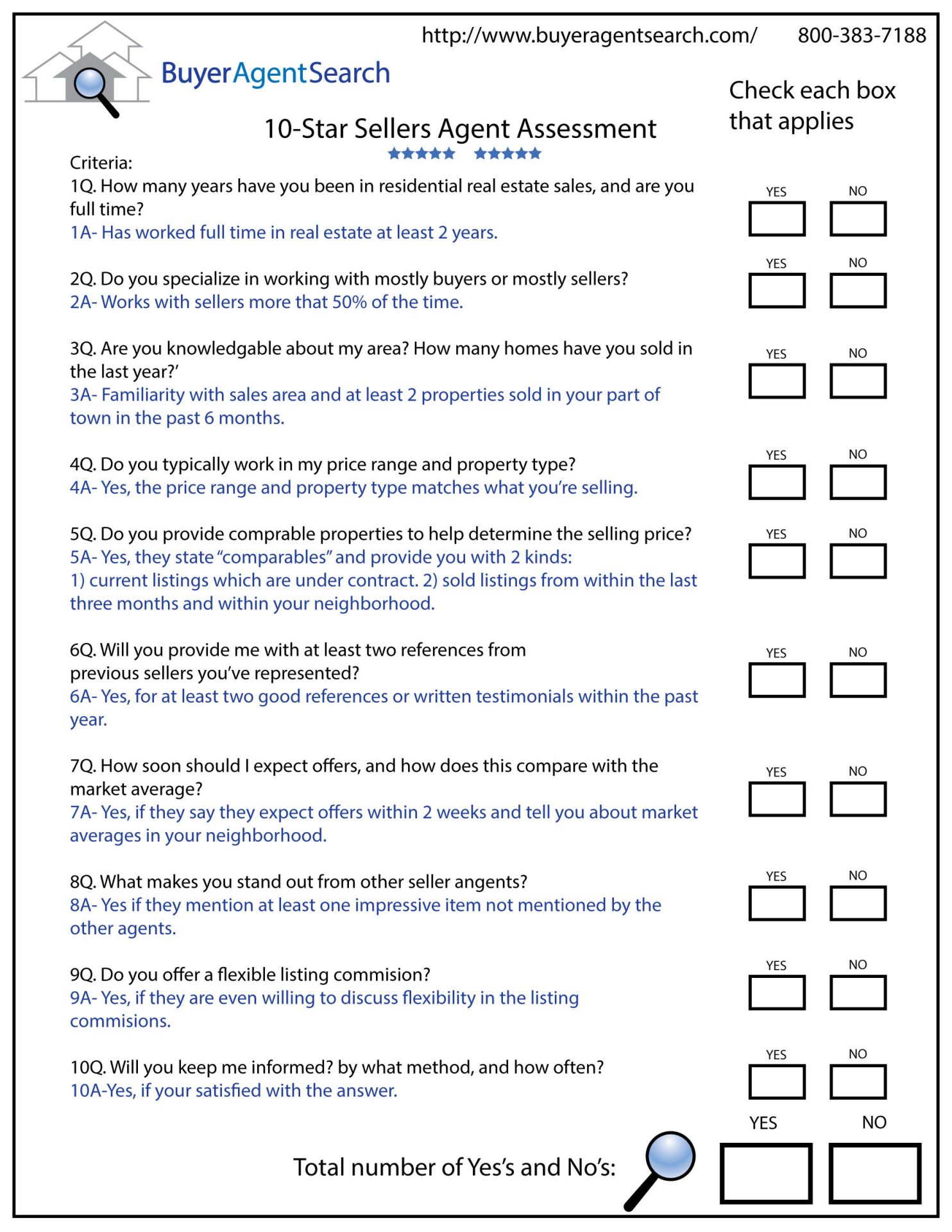 What is the total for each of the agents you are interviewing?