Below you will find  our most up-to-date list of highly rated Kansas buyers agents who are current members of the association. You may also choose an office number and then call our office at 800-383-7188 for more information on a particular buyer agency company.
Here are a few great things about living in Kansas: Affordable housing, incredible arts, and culture, and of course, some of the best barbecue in America. Kansas is known for their gorgeous sunsets; this is just one aspect that makes Kansas a beautiful place to live. Although we don't have mountains or a beach we are blessed with sunflower fields, sunsets, hills, and rivers. Kansas is a driving competitor against all other states in sports, education, and economy.
Free list of Top Brokers in Kansas and other States:
For quick access to Kansas real estate agents by city search, go to https://nationalbuyersagents.org. You may also find real estate buyers agents for other states within this site.
Kansas buyers agents and brokers are your partners and guides. They provide expert location and negotiation skills when you are ready to acquire a property.  Kansas buyers agents typically get paid out of the sales price of the home at closing .  Therefore you will experience no up front costs.  Use our interview questions for how to choose a buyers agent who will be the best fit for you.
Research Home Values and Neighborhoods
See our YouTube page for many real estate videos by state and city to do price and lifestyle comparisons or go to our 1 minute videos blog. These show current home prices per state and major cities that are researched through 3 different sites. One site we reference is the Zillow home values section of their website that is based on recent past sales.  It shows the 1-year changes.  Zillow, Redfin, and Realtor.com are great places for to start your research, but an Kansas buyer's agent will be your most current and accurate resource for actual MLS prices and home availability.
Key to  Kansas buyers agent designations: ABR: Accredited Buyers Agent; CRS: Certified Residential Specialist; GRI: Graduate Realtor Institute, SRES: Senior Residential Specialist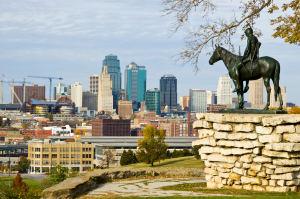 Buyers Agents in Kansas
| Name | Office # | Areas | Counties | Designations | Message |
| --- | --- | --- | --- | --- | --- |
| Charissa | 4671 | Gladstone, Kansas City, Lenexa, Olathe, Overland Park, Shawnee, | Cass, Clay, Jackson, Johnson, Kansas City, Overland Park, Platte, Wyandotte | | I provide my clients with the best possible service and educate you through the entire process of purchasing and selling of your home. |
| Shelly | 6000 | Abilene, Assaria, Chapman, Clay Center, Enterprise, Herington, Hope, Junction City, Lindsborg, Lincolnville, Longford, Manchester, Milford, Navarre, New Cambria, Niles, Salina, Solomon | Clay, Dickinson, Geary, Marion, Morris, Riley, Saline | GRI, ABR, CRS, NAR, KAR, C2EX | I pride myself in dedication, hard work and the ability to get the job done. Whether this is the first time you are buying or selling a home, I am committed to making the process fast, fair and hassle free. |
| Myron | 1565 | Derby, El Dorado, Goddard, Park City, Valley Center, Wichita | Butler, Harvey, Reno, Sedgwick | ABR, CRS, GRI, Contractor's license in City of Wichita | We want the client to say "Wow" at the closing for the great service provided. |
| Virgil | 10910 | Burlington | | ALC | Where a hand shake still means something. |
| Johanna | 12057 | Gower, Platte City, St Joseph, Savannah, Smithville There are many small towns/communities in this 60 mile radius; too many to name 🙂 | Andrew, Buchanan, Clay, Dekalb, Gentry, Platte | CRS, ABR, GRI, SFR, SRS, MRE | "Hire MORE than a sign" is my company slogan as many in the industry do the minimum to get the maximum. I believe you must go to the level of excellence to sincerely achieve customer satisfaction and appreciation. The long term goal isn't one sale; it's a lifetime of being their Agent of choice and the one they brag to their friends/family about. |
| Tim | 12152 | Ellis, Hays, LaCrosse, Plainville, Victoria | Ellis, Rooks, Rush | CRS | We strive to get to know our clients before and during the process of the real estate transaction so that we ensure we are meeting their needs. |
| Brady | 12153 | Ellisa, Hays, LaCrosse, Plainville, Russell | Ellis, Rooks, Rush, Russell | ABR | The "Platinum" Rule - we treat our clients how they wanted to be treated. |
| Michelle | 12159 | Ashland, Dodge City, Minneol, Olathe | Clark, Ford, Grey | | People First |
| Victoria | 12603 | Barber, Great Bend, Kingman , Kiowa, Pratt, Stafford | Barber, Pratt, Stafford | | I usually have a lifetime relationship with both my Buyers |
| Lori | 12606 | Buhler, Hutchinson, Inman, Kingman, Langdon, Lyons, McPherson, Nickerson, Pratt, Pretty Prairie, South Hutchinson, Sterling, Sylvia, Turon | McPherson, Pratt, Reno, Rice, | | I am a full service agent. |
| Carie | 14136 | Archie, Basehor, Bates City, Belton, Blue Springs, Bonner Springs, Buckner, Excelsior Springs, Grain Valley, Grandview, Greenwood, Harrisonville, Independence, Kansas City (MO & KS), Kearney, Lake Lotawana, Lake Quivira, Lake Tapawingo, Lake Waukomis, Lake Winnebago, Lansing, Leavenworth, Leawood, Lee's Summit, Lenexa, Liberty, Lock Lloyd, Lone Jack, Martin City, Mission, Napoleon, North Kansas City, Oak Grove, Odessa, Olathe, Overland Park, Parkville, Peculiar, Platte City, Platte Woods, Pleasant Hill, Prairie Village, Raymore, Raytown, Riverside, Roeland Park, Shawnee, Shawnee Mission, Smithville, Weatherby Lake | Bates, Cass, Clay, Jackson (MO), Johnson (KS), Johnson (MO), Lafayette, Leavenworth, Platte, Wyandotte | SFR, ABR, SRS | The best part about being a Realtor is when YOU as my client fall in love with the home of your dreams, having the best experience along the way. You are the priority and HERO in the process. When you receive your keys at the closing table, I hope you want to share my services with your friends and family, being one of my Raving Fans. I work with both buyers and sellers, all price ranges and throughout the Kansas City metro area. I enjoy educating first time homebuyers, as well as help people downsize or move up to a larger home that will fit a growing family. I always love the opportunity to earn someone's business and want to be known as Kansas City's Best Realtor, so my referral business continues to grow. Give me the chance to help you navigate buying or selling a home and give you a level of service that goes beyond real estate. |
| Kaleena | 14365 | MO: Belton, Blue Springs, Gladstone, Greenwood, Harrisonville, Kansas City, Lee's Summit, Liberty, Oak Grove, Parkville, Platte City, Raymore, Riverside, Smithville KS: Baldwin City, De Soto, Gardner, Lansing, Lawrence, Leawood, Leavenworth, Lenexa, Louisburg, Martin City, Prairie Village, Shawnee, Olathe, Overland Park, Paola, Spring Hill, | Cass, Clay, Douglas, Jackson, Johnson, Miami, Platte, Wyandotte | CLMHS | Your success as a homeowner is as important to us as it is to you. |
| Matt | 14619 | Andover, Goddard, Maize, Wichita | Butler, Reno, Sedgwick | Realtor | As a life-long resident of Wichita, I have a very good handle on the neighborhoods and trends of the surrounding communities. I work all areas of the city so am not tied to east side or west side, but will find the house that works best for my client and their lifestyle. |
| John | 15794 | Allen, Bourban, Bronson, Earlton, Elsmore, Erie, Fort Scott, Fulton, Galesburg, Garnett, Gas, Greeley, Humboldt, Iola, Kincaid, LaHarpe, Lone Elm, Piqua, Mapleton, Mildred, Moran, Neosho Falls, Redfield, Savonburg, Stark. Colony, Toronto, Uniontown, Chanute, Yates Center | Allen, Neosho, Woodson, Anderson and Bourbon Counties in Kansas. | GRI | Is to give the client the best service possible and always be very professional at all times. |
| Beth | 15815 | Blue Mound, Centerville, Gardner, Garnett, Greeley, Iola, Kincaid, LaCygne, Lane, Moran, Mound City, Olathe, Osawatomie, Ottawa, Paola, Parker, Princeton, Rantoul, Richmond, Welda, Wellsville, Westphalia, Williamsburg | Allen, Anderson, Bourbon, Coffey, Douglas, Franklin, Johnson, Linn, Miami, Osage | e-PRO, C2EX, SFR, AHWD | There are many qualities and skills that go into being an excellent real estate professional - integrity, in-depth community and market knowledge, marketing savvy, effective negotiation skills and a high-quality professional network, all of which are hallmarks of how we work. That said, in our experience as Kansas real estate professionals, we've also found that providing the very best service is essentially about putting our clients first . This means keeping ourselves accessible, being a good listener as well as a good communicator, and responding quickly to your needs. This "client first" philosophy has always been our approach and it requires us to continually improve our skills and ways of doing business. In addition, we've found that the latest technologies are enabling us to do everything we've always done, only much more quickly and efficiently. They've also helped us to extend the range of services we provide to our clients. |
| Gari | 15853 | Bronson, Burlington, Chanute, Colony, Erie, Garnett, Gas, LaHarpe, LeRoy, Moran, Westphalia, Yates Center | Allen, Anderson, Coffey, Franklin, Neosho, Woodson | | We are dedicated to finding the right fit for both buyers and sellers! You will love our never ending service! |
| Kenton | 16641 | Arnett, Buffalo, Fargo, Gage, Fort Supply, Mooreland, Mutual, Sharon Vici, Woodward, | Woodward | | Whether you are buying or selling a home, we want to earn your business. It is an important life event and we would like for you to be part of our growing family. |
| Cathy | 17041 | Arkansas City, Belle Plaine, Oxford, Wellington, Winfield | Butler, Cowley, Sedgwick, Sumner | ABR CRB CRS GGI RENE SFS SRES | We are the Standard of Excellence! |
| Laura | 17047 | Arkansas City, Augusta, Burden, Dexter, El Dorado, Mulvane, Oxford, Udall, Wellington, Winfield | Cowley, Sumner, Butler, Chataqua | | Our mission is to serve the community and customers with outstanding service and communication |
| Deborah | 17421 | Belleville, Beloit, Concordia, Mankato | Cloud, Jewell, Mitchell, Republic, Smith | | |